To boldly make comedy where there was no comedy before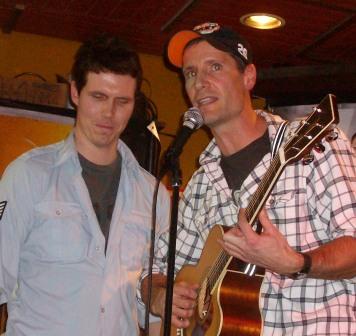 Inoculate yourselves, because free comedy is spreading in pubs west of downtown like a sniffle through a kindergarten.
The Gas Pump, located at 10166 114 Street, is the latest establishment to offer a slate of comedians on a night which is traditionally slow in the hospitality industry – Mondays at 9:30 p.m., fitting nicely between Sundays at The Druid on Jasper Avenue and Tuesdays at Ceili's on 104 Avenue.
This past Monday was the first night for comedy at The Gas Pump, and many of the comics cracked jokes about the fact the bar is more typically known as, shall we say, a good place to meet people.
"It's great to be on a stage where I'm pretty sure someone's been raped before," David Dempsey quipped, the stage he was referring to being The Gas Pump's colourfully lit dance floor.
The format, where there's a master of ceremonies who introduces a string of local comedians who perform five-minute sets, followed by a headliner who performs for longer, is similar to Ceili's. This isn't surprising because the organizers of the show at The Gas Pump are the same two guys who run the show at Ceili's – local comedians Ryan Paterson and Jordan Chyzowski.
"There's somewhat of a void on Monday nights for an open mike night," explains Paterson, about why they launched another show only a few blocks away from Ceili's.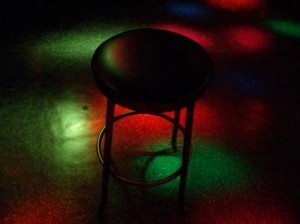 By starting the show at 9:30, Paterson says the performers can hit the stage for paid gigs at The Comic Strip at 8 p.m. and still make it for a quick set at The Gas Pump. They don't get paid (except for the MC and the headliner), but that's OK because it gives them the freedom to experiment with new material or work out the kinks in their acts.
As for Ceili's, Paterson and Chyzowski say, they're fine with it.
"Ceili's has an established audience for their comedy night," Paterson says. "This is a different crowd."
The crowd for the first night wasn't particularly large, but bar manager Sarah Ireland is pleased. The customers laughed, and more importantly, ate baskets of cheap wings and drank $4.50 pints of Budweiser.
Ireland says the important thing was the number of new faces she saw who wouldn't be at The Gas Pump on a regular Friday or Saturday night.
"We're a nightclub 10 hours a week but we're open 80 hours a week," Ireland explains. "We're very happy with the turnout. I can tell this is going to do well."
Mike Dambra, the evening's MC, also knows a good night when he sees one. The New Yorker has performed at all kinds of small-town bars who've brought him in for a "comedy night" where the audience wasn't exactly receptive to the break from AC/DC songs.
"If it gets ugly, it gets ugly. That's why they called me. They knew I could handle it," says Dambra, displaying typical New York modesty.
But New York isn't where his toughest shows have been. That honour goes to Wetaskiwin.
"They used to tap the pool cues because they shut down the pool table for the show. When they tapped the cues, that's when you knew they were coming for you!"
While one might think that with so many free comedy nights in the city, Edmonton audiences might pass on paying cover charges at established comedy clubs, Paterson and Chyzowski are skeptical. The comedy clubs always put on better shows, they say. They have better sound systems, and the sight lines are never obstructed.
"They have more money to put into shows,"Chyzowski says.