HOUSE: Render unto Nero the drinks that are Nero's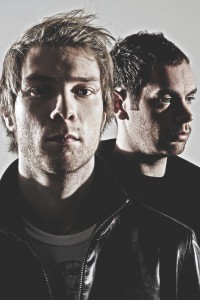 These days, Nero are fronting a swell of popularity for back-track beats and remix thumpin' that gets the dance floor jumpin'.
The UK DJ'ing duo are headlining the Starlite Room's Bassic Examination End of Exams Party Monday night. The concept of thumping subwoofers seems like just the right amount of fun – although DJ/producer Joe Ray says it's the head thumping the day after final exams that's often just as memorable.
"We started pretty early. On the day I finished exams, it was about midday that I came out of the last exam. And then it was pretty much 'get wrecked from then on'," he says.
Their last visit to Edmonton revealed a sort of trend to the whole mixin', scratchin', singin' deal: lots of drinkin'.
"The last time we were in Canada it was massive," he says with a laugh.  "Edmonton last year was a big night. I drove to Calgary the next day feeling fucking terrible. I remember that drive more than the night."
Nero have done remixes for Deadmau5and Daft Punk, but the pair have taken six months off from that side of their creative equation to work on an album, Welcome Reality, being released Aug. 1, to capitalize on the strength of UK-charting single Me and You. They're also releasing a second single, Guilt, this Sunday.
"Me and You did really well on the UK charts, which was completely unexpected. It just came from nowhere, really. We'd just been getting kind of more underground media before. So when it happened, that was great," says Ray.
"It's the new rock or new pop music on the charts. Especially in the UK, even five years ago it was still dominated by bands, with pop stars in there. Whereas now, every video seems to be (electronic) music, or pop stars using actual dance music backing tracks."
He intends to ride the trend, knowing full well these things don't last. "It's just a cycle. I'm sure bands will be back," he says. "Who knows what people will be into in two years' time."
After finals? Getting corked and hopping around like madmen, one presumes.