Johnny Clegg was worldbeat before worldbeat was cool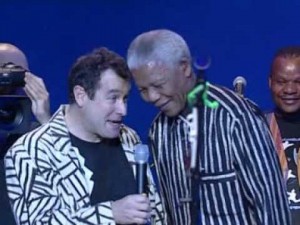 You wouldn't think a white guy growing up in South Africa would have problems with racism, at least from the receiving end – but when your musical partner is black and it's illegal to for a mixed race group to perform in public venues, it kind of puts a crimp in your career.
This may explain why Johnny Clegg – whose fusion of African and Western sounds can be heard at the Winspear Centre tonight – isn't nearly as well known a worldbeat artist in North America as Peter Gabriel or Paul Simon. Clegg was worldbeat before worldbeat was cool, before Nelson Mandela was elected in 1994, before apartheid was banished. None of this deterred him.
As Clegg said in an interview last summer with SA People (South African entertainment website), "I have always promoted the crossing over of culture and the idea that there is space for all cultural voices to be heard and expressed. That is the constant message that underlies what I do."
Make no mistake: Clegg's cross-cultural musical adventures did not come from the street. He was a child in a privileged family, and became a teacher of anthropology at the University of the Witwatersrand in Johannesburg – where he began toying with the idea of musical crossover. Way back in 1979 when apartheid was going strong and the future president of South Africa had been in jail for 17 years, Clegg formed a group called Juluka with his partner Sipho Mchunu, made a record with producer Hilton Rosenthal and proceeded to … get NO radio airplay and perform NO public shows. Is that underground enough for you? They did a lot of house concerts (a trend that's coming back, even in Alberta), championed the cause of the migrant workers and built a "grassroots" following in the best sense of the term. Clegg eventually managed to break out of South Africa, tour Europe gain a measure of international fame – adding his voice to a growing chorus of anti-apartheid forces and earning the title of "Le Zulu Blanc," the White Zulu, in France – but his heart has remained in his homeland to this day. He has released more than 20 albums that boast that cool South African "crossover" sound.
Tickets to tonight's show are $42 and on sale here, or call 780.428.1414.