THEATRE: Brad Fraser's wholesome family comedy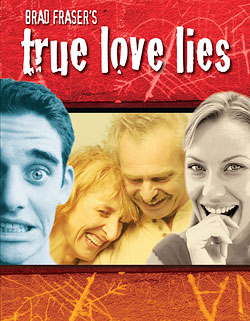 A promiscuous teenage girl gets a job at a local restaurant and discovers that her boss once had a homosexual love affair with her father.
Do all of Brad Fraser's plays have to have a gay theme? Short answer: No. But it sure sets the stage for a wholesome family comedy, doesn't it? At the Citadel Theatre's Rice Stage until May 15, True Love Lies has been called one of Fraser's funniest plays, a slice of the lives of a perfect Canadian family. You may know one just like it. They have a perfect house, perfect kids, perfect teeth. OK, so we've found out about dad, and now sis has to complicate matters by having an affair with her dad's former lover, her boss. Brother, meanwhile, has problems of his own, while clueless mom thinks it's a good idea to smoke pot with her kids. It's always awkward when that happens. Mom, you're supposed to hold it in!
Fraser, we remember, was born and bred in Edmonton, where he earned both controversy and critical acclaim with his gritty, witty productions. Poor Super Man – a tale of a homosexual love triangle – was actually banned (temporarily) in Cincinnati before it even opened. Talk about some great press. Fraser has since moved to Toronto and become an internationally-celebrated playwright whose works are performed to packed houses and rave reviews around the world – gay or not, doesn't really matter. As one of the characters in True Love Lies observes, "It's all just sex."
Buy tickets here or call 780.425.1820.