Sloan bringing 20th anniversary tour to Edmonton to back new album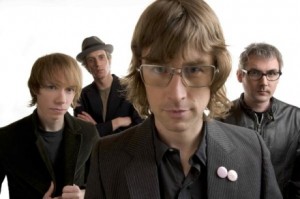 We've waited 20 years for an answer to the question: who exactly are the People of the Sky, and why are their bodies covered in coke fizz?
Sloan will answer those questions and more as the legendary Halifax rockers kick off their latest album on the tour, which just happens to be on their 20th anniversary.
The band has a  May 31 show at the Starlite Room, with $22 tickets available at Blackbyrd Myoozik, www.PrimeBoxOffice.com, www.UnionEvents.com, and Brixx Bar and Grill.
The gig is supporting The Double Cross, a new album being released May 10.
If your adolescence coincided with the early 90s, Sloan led a wave of East-Coast musical respect that had veteran magazines like Spin calling Halifax "the New Seattle." Of course, for that to have been the case, Canada would have required a population base, a massive record industry and lots of money behind it. Consequently, it was basically nonsense. Sloan, like a lot of bands, actually moved to Toronto eventually to make it work properly for a while.
Like most bands that have been crammed together creatively for 20 years, they've had side projects and affiliated acts (Super Friends were particular faves back in the day), but Sloan have still lived and died on the strength of their tunes. A 20-song package actually isn't ambitious for these guys; and as ambivalently confusing as their poetic, drum-skin-bashing musing may sometimes been, there are very few Canadian bands – EVER – who can say the same.