Tragically Hip play Northlands July 14, Lil' Wayne on, the Game off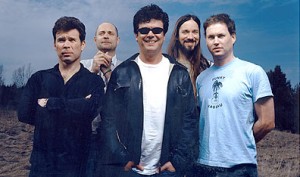 Canadian rock legends The Tragically Hip are coming to play an outdoor show at Edmonton's Northlands Park on July 14, it was announced today.
The band is expected to perform songs from an as-yet-unreleased album they're working on, along with all your usual Hip favourites. We'll kill Gord if he doesn't do New Orleans is Sinking.
Tickets are $75.50 and go on sale Friday at noon at Ticketmaster here.
Meanwhile, Lil' Wayne (Rexall, Thursday, April 28) has NOT been cancelled, despite rumours contrary.
The Game's Saturday, April 30 show at the Edmonton Event Centre HAS been cancelled. His entire Canadian tour has been cancelled, as his access to Canada has been….you guessed it, cancelled. He even had the proper papers and everything and he was still denied. That's how bad this guy is.
But we know it will be of enormous relief to the hardcore hip-hopping gangsta rap fan base out there that Edmontonians will instead get ALISON KRAUSS AND UNION STATION, YO!
Heh heh, sorry if we got you all excited there, hip-hop nation. Instead, we get the alt.country/folk stylings of Ms. Krauss, more schooled in hardcore humanity than most pant-dangling rap fans are ever likely to be – no offence and props to those who truly represent, of course.
Krauss, also noted for her recent work with former Led Zeppelin frontman Robert Plant, recently released her 14th album with her band and is a three-time Grammy winner. She plays the Jubilee Auditorium on July 5. Tickets are $49.50 and $69.50 and go on sale Thursday at Ticketmaster here.