THEATRE: It's a women's world in When Girls Collide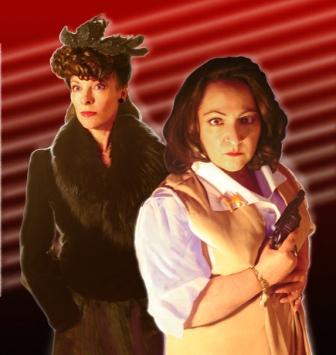 When Girls Collide is a remount of the original production back in 1989 – and for Leona Brausen, it couldn't have come soon enough.
"I've been wanting to do this for a long time. The play is funny. I'm drawn to what's funny," she says. Brausen will reprise her role of Helen Thorne from the original Stewart Lemoine play for a new Teatro la Quindicina production opening tomorrow night (Thursday, April 28) at the Varscona Theatre.
The plot of When Girls Collide concerns the goings-on in the town of Bunsen Bay, Wisconsin. It's a town without men as they've all gone off to war. Helen Thorn becomes a reluctant detective in among and amidst the murderous intrigue.
"It's a film noir play", explains Brausen, "It's a different way of acting. She is out of her element. A lot of what motivates her is being in the wrong place at the wrong time. Because the men have all gone to war, the town is made up of women, old men and little boys."
This is Brausen's umpteenth collaboration with Lemoine.
"I lost count a long time ago. I rely on other people to tell me the actual number."
(At this point in a recent phone interview, Brausen covered up the mouthpiece and asked in a bellowing tone if anyone there knew how many productions she's been involved with Lemoine. No answer came.) "Lots and lots," is her final answer. For Brausen (who just also happens to be a long-time member of the legendary Die-Nasty cast), she includes Cocktails at Pam's and Pith along with When Girls Collide as her favorite plays she has done with Teatro. "How can I turn down a chance to party and be totally rude to people?" Brausen says of her diva actress character in the multi-mounted Cocktails.
The relationship goes back to them meeting in high school, "In Grade 10. We were in drama class and he made me laugh. We did some scenes and improv together, then he started casting me in his home movies; Super-8 films. We did his version of King Lear. I don't think either one of us had bothered to read the play in the first place".
As usual, Brausen is playing double duty as costume designer (while actor Jeff Haslam has taken a turn doing set design).
"At this moment all I can think of is shoulder pads – lots and lots of shoulder pads," she says. "I just happened to be a hoarder, so it works out for all. You might eventually see me on Hoarders".
Until then, you can catch Brausen in When Girls Collide at the Varscona until May 14.