Royal Wedding comes to Edmonton!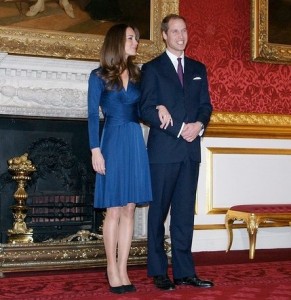 The Royal Wedding is neigh! Or is that "nigh?"
Didn't get your invitation? Neither did we. Weird. But that doesn't mean we can't embrace the Event of the Decade – the Wedding of the Century! – with style, grace and good manners at the Edmonton Exclusive Royal Wedding Celebration, happening at 3 a.m. on Friday morning – less than 12 hours from now! – in the Chateau Louis Conference Centre, 11727 Kingsway Avenue. It's only 6,800 km and seven time zones from Buckingham Palace. Silly? Maybe. But it's for a good cause. All proceeds will go to the Stollery Children's Hospital and the Edmonton Food Bank.
What does one wear to watch a Royal Wedding on TV at 4 a.m. in Edmonton? High tea will be served, too.
"Of course you have to come in formal attire, complete with hat," says organizer Milena Santoro. "Women are excluded from this rule. But when a gentleman enters a room, he is to remove his hat." Yet the gentleman must keep his hat present – in case he has to go outside and fight the Huns or something.
You can see there's a bit of tongue-in-cheek thing going on here, but this is something of a big deal for the folks attending this event. Of course they are all completely mad.
"Yes, we're mad – mad about the royal wedding," says Santoro. She goes on, "The people who are coming to this event are royal watchers, brides-to-be and people interested in becoming part Edmonton history. We're the only people here who are going to experience this as it happens."
The opening ceremonies will start at 3:30 a.m. with a procession featuring the Edmonton Police Pipe Band and the RCMP Guard of the Queen, followed by flag presentation and a singing of the national anthems of Canada and Great Britain by busy local band Sister Gray. The wedding broadcast proper begins at 4 a.m. There will be games, door prizes (including a trip for two to Jasper) and plenty of strong coffee on hand. Tickets are $40 and include an English breakfast. Register online here, or call 780.999.5799 for information.