Command Sisters take their sound to Nashville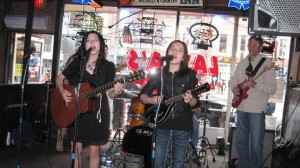 Have you ever been to an actual hootenanny in Nashville?
At ages 15 and 12 respectively, Charlotte and Sarah Command,will  go you one better: they've played one.
The sisters recently spent two weeks in Nashville, performing at eight different venues in a whirlwind tour of the music city but had time to chat on the weekend, in between recording their second full-length album, and co-hosting a U22 open-mic evening at Expressionz Cafe.
Their Nashville journey started with their mom, Karen, applying on SonicBids for a performance at Blue Bird Café. Once they were confirmed there for a pair of shows – including one songwriter night with a one-hour set – it opened doors for them at a bevy of other venues.
Other gigs included a performance and interview on Balcony TV (on the roof of the Hard Rock Cafe), the live-to-radio Billy Block show, and a little club called Layla's, on Broadway (pictured). Then, of course, there was the actual Nashville Hootenanny, where a variety of up-and-coming talent plays just two songs for the music industry elite in the city. All in all, the family spent 17 days in Nashville, though that was split into two segments by a side trip to see Mickey Mouse and Harry Potter in Orlando.
The Sisters' first album was more acoustic in nature, with five songs recorded in a basement. The second will have a much more polished feel. Produced by Stu Kirkwood at Sound Extractor and backed by a full band, the sisters have definitely seen their sound mature. The album, "Fly", will contain the final recordings of two demo tracks that you can listen to on their website (http://thecommandsisters.com/) along with six others, and should be available by the middle of June.
That seemed like a good segue to talk about their "sound," which is anything but straight country. Charlotte described their sound as "folky / country / rock / kind of a little bit of everything / blues sometimes", while others have declared their sound as "Americana" (the category John Mellencamp and Willie Nelson often get included in). Still others, including Kirkwood, say the sisters remind them of Fleetwood Mac. Myself, I'm going to call them alt-country-folk – after all, there's very few artists today that don't cross a number of genres.
Charlotte admires the songwriting skills of Taylor Swift, and Carrie Underwood for her voice. They're both huge fans of guitarist Joe Bonamassa, and Sarah gained a ton of my respect when she mentioned the legendary Joe Satriani. Of course, the girls also started singing along with "Secrets" by 1 Republik when it came on the coffee shop's sound system.
The girls talked excitedly about their relationship with the U22 group, originally meeting Executive Director Rhea March a couple of years ago at a local open mic evening, who has been a big help along their way. In fact, the Command Sisters will be performing at a number of charitable events over the next month, and then will make appearances at a number of festivals during the summer as part of the U22 (http://u22.ca/) group, including the Canmore Folk Festival, Lilac Festival, and the granddaddy of them all, the Edmonton Music Festival.
A CD release party should come sometime early in the summer.
Michael Senchuk also writes about new music on his own blog, New Music Michael (http://www.newmusicmichael.com/).