Electronic superstar Tiesto draws 7,500 to Northlands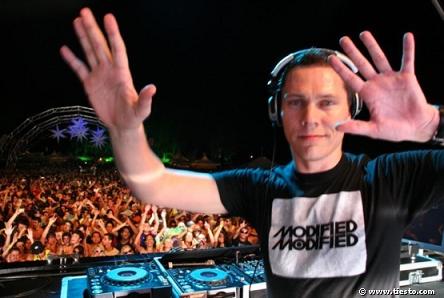 If anyone has any doubts that dance culture is alive and well and going full tilt in Edmonton, just look at last night's sold-out Tiesto show. Look at it, we tell you!
The 7,500 orange-clad folk descending on Northlands Expo weren't the Christian Youth conference (that's next month), but a horde of ravers celebrating the End of Classes – wearing orange in honour of the Dutch dance music producer who has been dubbed the greatest DJ in the world. It's hard to measure this sort of thing, of course, and Mix Master Mike fans might have a few things to say about it, but there you go: The humble DJ as rock star.
Whether or not you believe that load of hype – or think Tiesto is to electronic music what Dane Cook is to comedy – it doesn't matter. Tiesto is the best because his fans say he is the best, and when that many people gather in one place for one purpose, for one celebration of pure rhythm, it scarcely matters who's manning the decks. The energy is the important thing, the vibe, the necessity of keeping the thumping, bumping bass going at 146 beats per minute. It's not like he's actually "performing" or anything. He already did all the work in the studio. He's just playing his records, right?
Ah, but there's a little bit more to it than that, as any connoisseur of "live" house music can tell you, and there's those nasty quote marks again. It's still a grey area.
Coming to fame with a 2000 remix of a Delirium song that had Sarah McLachlan singing on it – in a sense a remix of a remix – Tiesto turned out to be the right guy in the right place at the right time. Dance culture was taking off and he had the perfect formula – and sounds, and passion, and business sense – to capitalize on it. He was the first DJ to play at the Olympics. He was the first DJ to headline a stadium. He is first DJ to become a superstar.
Now check this video out and judge for yourself whether Tiesto deserves this status – and show your respect to the great Samuel Barber, while you're at it: