Guitar Shorty hits Edmonton's Labatt Blues Festival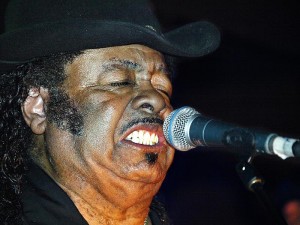 There are always some fairly righteous reasons to go to Edmonton's Labatt Blues Festival, but this year is something a little special, at least if you like ripping guitar.
Y'see, even though he's not the headliner, this year's edition – Aug. 19 to 21 at Hawrelak Park – is bringing in Guitar Shorty. And Guitar Shorty does what few men do, no matter how deep their blues may lay: he peels notes off an electric guitar like a man trying to grasp the last vestiges of his own soul.
A few years ago, he put out one of the bigger blues albums, a blast of smouldering licks entitled "We The People," led by a title track that predated and predicted the Wall Street bailout and collapse of the U.S. middle class with distinct ferocity.
"But we're the backbone/of the company," Shorty intones. "I thought the Congress/s'posed to work for me/What if it ain't working?/Just don't seem right/that today a poor man/ has to sacrifice …
It's that kind of tune, like a Hendrixian, acid-rush version of Pete Seeger played through double Marshall Stacks.
That last comparison is apt, by the by. Hendrix was Shorty's nephew, and learned a fair deal of his guitar at the wailing one's knee.'
The rest of the show looks pretty good. They're having one of those big harmonica blowouts again, which never personally sat well – harp was best played by one charismatic frontman ahead of a small band in a dingy club. So you can play a solo using every note on a chromatic harp? Congratu-fucking-lations.
However, the guitarists definitely rule this year. Sean Carney, the smooth blues man from Columbus, Ohio, is back to the town where he recorded his last live disc (during a stand at Blues on Whyte); Carney and fellow performer John Richardson have both won guitar honours at the International Blues Challenge in Memphis. Throw in David Gogo, Diunna Greenleaf and Kim Wilson's Blues All-Stars (doubtless a very T-Birds-like congregation) and it should be one smoking show.
Tickets go on sale tomorrow morning, April 30, and are available via Ticketmaster here.