AIR SUPPLY: Balm for the boomers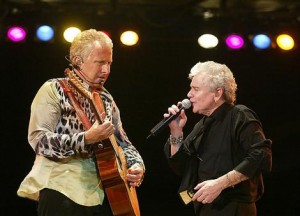 These kids today … with their "fire" and their "wheel."
Old-timers shouldn't grump. Twitting and textering are just different tools with which to communicate, like the telegraph wire or smoke signals, and stars like Tiesto and Lil Wayne merely represent the latest examples of musical expression, as they are artists that will prove to be just worthy in the popular music canon in 30 years as, say, the Eagles.
Or at least Air Supply, maybe.
At the end of a ravey, hip-hoppy sort of week filled with trix for kids, it might be time to throw the baby boomers a bone: Air Supply plays a sold-out show at the River Cree Casino tonight. That's right, the Australian band that epitomizes the term "soft rock," whose very name speaks of the lighter side of the rock 'n' roll genre, has returned. Russell Hitchcock and Graham Russell (who met during a stage production of Jesus Christ Superstar in 1975) might tell you they never went away. Generally speaking, once a once-famous band reaches a certain nadir of fame, they disappear from the mainstream radar until they turn up playing some casino in Northern Alberta – so every gig can be a "big comeback" for area fans. A boomer might be overheard to exclaim: Omigod, they're still around? We are so there!
But again: Air Supply never went away. Buoyed heavenward on clouds of ahhs and oohs and peaceful easy breezy hits like Lost In Love, All Out of Love, The One That You Love and Love Makes Me Itch (we made the last one up, just wanted to make sure you're paying attention), the Australian group was huge in the '80s and – like Cheap Trick – earned a second spot of success in Asia in the '90s. And unlike many classic rock acts that coast on their fame, Air Supply is still making new music. The latest, studio album No. 18, is called Mumbo Jumbo. Fans can expect to hear a few "from our new album" at the show. Usually a cue for "go for a pee" in classic rock circles, maybe in this case a new Air Supply song is something to stick around for. Well, judge for yourself: