ElectFest 2011 hits nation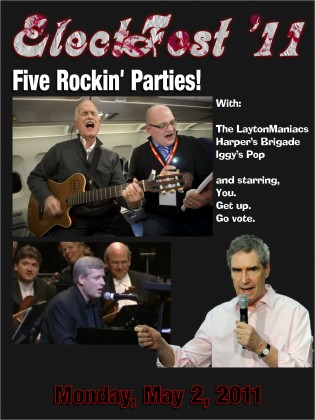 Edmonton, you're Festival City, aren't you? Like, if anybody's down with festivals, it's Edmonton. That much is painfully obvious.
Well, then, Festival City, these are most certainly some exciting times we live in. Yesirree, six weeks of campaigning ends today, and tomorrow is the big, big day we've all been waiting for – the Grand Finale of Election Festival 2011.
We've been on a lucky streak the last few years. Usually, it's only every five years that we get to enjoy ElectFest, but sometimes, when we get just the right circumstances, we;re lucky enough to participate a little more frequently. This is our fourth Election Festival since 2004.
The major parties' leaders have been scuttling hither and yon, delivering their platforms, debating what makes theirs superior to the other parties, trying to make the best possible cases for why their candidates of Member of Parliament (MP) should be elected to the House of Commons in the greatest numbers, with their leader becoming Prime Minister.
In every constituency in the country, candidates have been knocking on the doors of their potential constituents, participating in all-candidates' forums, and marshalling volunteers here and there to deliver lawn signs, contact people over the phone, and interrupt people's dinners.
Festival attendance has been down the last little while, but we've got reason to be optimistic. Advance sales showed a substantial increase in participation across the nation. Why is that? Hard to say. In the early going, it was sort of looking like the same old festival with the same old boring shit going on, but this time, everybody's been helping out in every way they can to make ElectFest 2011 more exciting.
Stephen Harper has offered an interesting interpretation of how elections work, not to mention a provocative prediction of how this one will turn out. Michael Ignatieff, leader of the Liberal Party, has been making barnburning speeches everywhere he goes. And then, courtesy of the New Democrat Party, there is the positively moustachioed message of Laytonmania.
So how do you reward efforts like these? Do you make like it's not happening, or that it doesn't matter, or that your own contribution to ElectFest doesn't matter? Well, let's hope not, because not only is this happening, but it totally matters, no matter how many people show up to participate … and the more people who do, the better it is.
There are polls located throughout the City of Champions, filled with Elections Canada workers, ready to help you join in. If you're a Canadian citizen age 18 or above, you probably got an exclusive invitation sent to you in the mail, but in case you didn't, that's perfectly okay. You can go here online to find out where the closest poll to you is and what you'll need as far as personal identification. All you need to do is show up sometime between 7:30am and 7:30pm tomorrow, and you're in.
Don't miss out!