Kids rock Goldbar Park for Kids Help Phone benefit today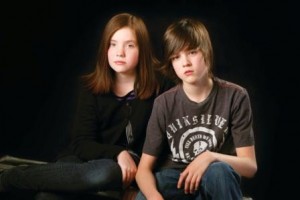 Don't know if this is just a generational thing or not, but a lot of working Edmonton musicians are reproducing at an alarming rate. And now some of their spawn are old enough to be working musicians, too.
Consider Luke and Tess Pretty, aka the Pretty Kids, whose father is local drummer Greg Pretty; or DRT, featuring the son of K-97 announcer Terry Evans, who isn't a musician, but close enough.
Both young bands above get a lot of local attention thanks to their respective fathers – and on their own merits, too – and both are on the bill for "Kids Who Rock So Kids Can Talk" happening at Gold Bar Park today. U22 Productions (promoting talent under the age of 22 in Alberta) is also on the bill. The gig is part of a national fund-raising charity walk for the Kids Help Phone, a free counselling service for troubled youth that have no one else to turn to. The service gets about 1,000 calls per day on issues ranging from school bullying to parental abuse, so support is needed. Edmonton is one of 55 communities across Canada participating in the "Walk So Kids Can Talk" event May 1. Registration starts at 9:30 a.m., the walk at 10. To register, pledge or donate, click here.
The rock show starting later – one of the first outdoor rock shows of 2011 in Edmonton, at that – is a particularly local twist being organized by local guitarist Bobby Cameron, whose own kids are still a few years away from forming rock bands. He says this is the first time he's promoted anything outside of his own career and it's a "tremendous opportunity for a good cause."
There's an opportunity to shed some light on another issue with this gig, too. Because of a silly wrinkle in the Alberta liquor laws, the Pretty Kids and DRT are just two of the many "kids" bands around town who aren't legally allowed to perform in bars, even with a consenting parent present. Both of the mad dads have taken up this crusade (read all about it here), and needless to say, they'll be at the show today. Admission is free, but donations will be accepted.