NEW MUSIC: An Horse v Times New Viking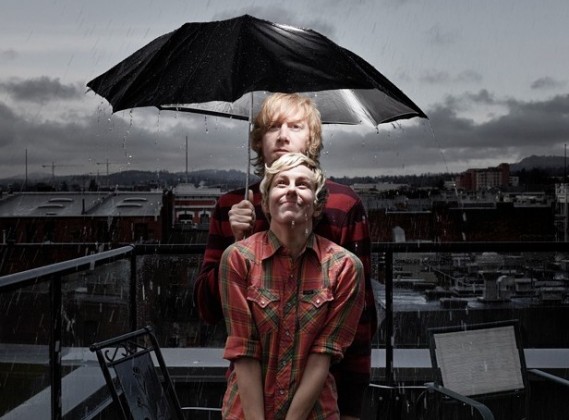 How will two bands both competing for fans at Calgary's Sled Island Festival later this summer fare when they both also release albums the same week? Let's find out!
The first  is Australian duo An Horse (pictured), who released their sophomore album – always a challenge – titled "Walls" on Tuesday. The band has opened for Tegan and Sara in the past and you can definitely see their influence throughout the album.
"Walls" starts feverishly with "Dressed Sharply", with drummer Damon Cox hitting the skins like a madman before the effervescent voice of Kate Cooper (who also plays the guitar) kicks in. "I don't need any mirrors in the hallway", a line from the track, is really a perfect metaphor for the entire 12-track album. The band has assembled a collection of tracks that they obviously love, and seemingly let the audience do what they will with.
The second track "Not Mine" is one of the strongest songs on the album, a willowy jaunt with punchy-but-melodic guitars. "Know this we've noticed that you're not fine" from the fourth track is also highly memorable, although the song is definitely a bit of an escape down a more tragic path. Another heady topic is tackled in "Brain on a Table", again a depressing but well-orchestrated track, moving from a sullen ballad to a frenzied rock tune in the matter of moments, asking a loved one repeatedly to "please wake up!" after a tragic accident.
Despite some powerful topics, each song has a slightly different sound and feel, and yet they all coalesce into a well-constructed journey over the course of the album. Cox and Cooper do an impeccable job constructing and interweaving beautiful indie pop with the odd display of heavy guitar, furious drumming, and Cooper's extraordinary voice. Definitely go out of your way to see this band at Sled Island.
Times New Viking is a trio from Columbus, Ohio; their name is actually a play on the font known as Times New Roman. "Dancer Enquired" is their fifth album, and they are known for their super-lo-fi / noisepop sound, and the sharing of lead vocal duties between drummer Adam Elliott and keyboardist Beth Murphy.
The album has some great fuzzy guitar riffs, just as you'd expect – in particular the start of "Ever Falling In Love" is stunning. The guitar work throughout the album is on par with any other noisepop band out there, but falls significantly short of the promised "mammoth guitars" by the label (Merge). The drumming is far too subtle, a tertiary aspect of the sound at best, and it also tends to leave the album a little lacking.
More critically, when both vocalists are singing together, the coordinated harmony is a little grating – and sometimes so is the timing – and both are so fuzzed out by purposeful distortion it makes the lyrics completely indecipherable more often than not. Murphy's voice even by itself is less than charming, and she seems to be struggling throughout the album – as if she had a serious throat illness that would prevent her from performing live, much less completing an album.
There are a couple of treats on the album, however – "Somebody's Slave" sees the band at their strongest, with precise guitar riffs, and a slightly more voluminous drum track. The vocals on "No Room To Live" are at their best on the album, with Murphy's voice an enjoyable mix of pleading and lamenting.
Considering this was the first time the group recorded in a real studio, the album continues to sound like it was recorded in a basement on a reel-to-reel. While some "fuzziness" definitely should have been retained for the genre, it seems like they overcompensated.
In the end, not much of a battle. In fact, Times New Viking's entry was lapped traffic. If you do want some quality noisepop, instead take a listen to the Vivian Girls, or Frankie Rose & The Outs.