Pixies dust off an old classic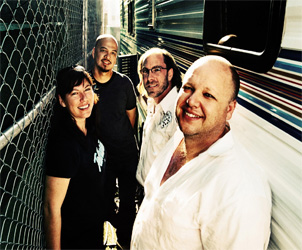 Do you believe in magic?
If you answered No, you might need a sprinkling of Pixie dust from drummer David Lovering.
When Lovering isn't on the road with his reunited, iconic alt-rock band the Pixies, he makes his living as a magician.
"If you think being a musician is hard, being a magician is 50 times as hard," Lovering says. "When you think of all the magicians in the world that are big, there's only a handful. Other than that, it's just the birthday party guys."
Get ready for classics like Wave of Mutilation and Here Comes Your Man when The Pixies perform their acclaimed 1989 album Doolittle in its entirety (along with related B-sides) at the Shaw Conference Centre Sunday.
As a magician under the alias The Scientific Phenomenalist, Lovering wears a lab coat on stage and does tricks that incorporate electronics, music and physics.
"The show goes on (with) weird physics experiments, but the line gets a little blurred about what is magic and what is real experimentation," he explains.
"One of the things that I do in the stage show (is) I take my kick drum, I fill it up with smoke, and I can shoot smoke rings out about 100 yards. Or I'll take a pickle or a gherkin, I'll plug into 110 volts and it will turn on like a lightbulb.
"Or, I can take a lightbulb, actually, and just use a tuning fork and sing into it and it will explode in my hand."
Lovering took up the unusual pursuit in the late '90s after attending a magic convention with his friend, musician Grant-Lee Phillips. Feverishly inspired, he immediately invested in videos, books and magic courses.
Now juggling both music and magic, he's found similarities between his two jobs.
"The spelling, they're pretty close to each other, the A-G and the U-S in magician and musician. It's good for me, because when I had business cards back in the day, if one career failed I could just use whiteout and change the two letters," he jokes.
"But I think the similarities definitely are, with music, if you're seeing a band, you can have awe and wonder by seeing something you liked. The same with seeing a magic trick by a magician … But I think with magic, there's a subtext of, maybe the impossible is possible."
Despite the Pixies amassing a reputation as one of modern rock's most influential bands, Lovering hadn't touched his drum set in a good decade until the Pixies reunited in 2004.
Since then, he's been reliving the glory days with frontman Black Francis, guitarist Joey Santiago and bassist Kim Deal.
"I had played drums – a little session work, I played with other bands – and then I just gave up drums completely. I figured I couldn't top my time with the Pixies, I just enjoyed it so much," Lovering says.
In the mid-90s, he even passed up an offer to drum for the upstart Foo Fighters.
"When we got back together, when I sat down behind the drums for the first time in years, it was something that I grimaced about. I didn't realize how much I loved drums and I just threw them away.
"Being back with the other three and doing this, it's just been a wonderful, wonderful time. I've got a great opportunity to relive. I have to appreciate every minute of it."
This tour is the Pixies' biggest stage production ever, featuring spectacular lighting, giant undulating eyeballs, and a video tailored to every song on Doolittle, each made by a different director.
The only thing it could use is a little magic.
"There are two things that I could do on my drum set, and I have yet to do them while playing with the Pixies," Lovering says.
"I don't want to overshadow or disrupt what's going on. I think it would be fun for the audience – I could possibly blow smoke out of my kick drum. Or I have this funny thing that involves my drum stool. Maybe one of these days I'm going to do it; it's pretty funny and almost a shock in itself."
Now that the Pixies are top of mind for Lovering and Co. again, there is one question still burning on the mind of every Pixies fan: how about a new album?
"We've been talking for years of maybe doing something new. My fingers are always crossed behind my back and it's never come to fruition," he says.
"But if there was something, as a magician, I can never reveal any secrets anyway."