REVIEW: Kids rock for charity in Gold Bar Park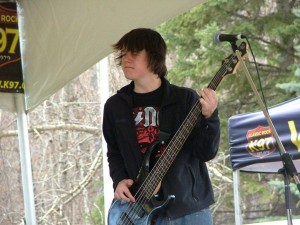 Are you good at what you do? Well, Luke and Tess Pretty sure are. Together they are the Pretty Kids, and they kicked off the "Kids Who Rock so Kids Can Talk" show at Goldbar Park on Sunday afternoon, a benefit for the Kids Help Phone.
Luke and Tess Pretty, children of local drummer Greg Pretty, can both sing and play drums and keyboards. You may not guess it from their ages, but Luke, age 14, and Tess, 13, are both fantastic musicians. An entertaining set of six songs consisted of a mix of instrumentals, covers, and originals. While the instrumentals were great, the songs that stuck out to me most were an original written by Luke, and a cover of the great Beatles song, Don't Let Me Down. The Pretty Kids proved to be more than just pretty faces, but excellent musicians too.
Second to the stage was Jordan Kaminski, an 18-year-old singer-songwriter from Sherwood Park. Jordan, who played guitar and sang, with Dean on bass and Derek on drums, proved to all be excellent performers. They kicked their set off with a bluesy cover of I'm Yours by Jason Mraz. The rest of their set was dedicated to original songs. One that stuck out was "Walk On By," about walking right by homeless people and not helping them. With his great voice and songs, Kaminski's set was too short for my liking.
Next up were the multi-talented Command Sisters, Charlotte and Sarah, who have been called "the next Dixie Chicks." Charlotte, age 15, handled the lead vocal duties admirably while Sarah, 12, chimed in with sweet vocal harmonies and solos on her guitars and mandolin. Their set consisted of all original songs. Upon hearing this I was worried that the audience would get a little bored, but I am glad that the Command Sisters proved me very wrong. Their songs were beautiful and relatable, and I often found myself singing along to the chorus. Between songs they provided excellent chatter and seemed very comfortable on stage. Their song entitled "Fly" had a beautiful chorus with the lyrics, "Don't you clip my wings when I've finally found a reason to fly." I can say I am really glad nobody clipped the incredibly talented Command Sisters' wings.
I am proud to report that the last act, DRT (pronounced dirt), did not perform like dirt. Their performance started out a little rocky, but they proved to all be great musicians by the end. DRT consists of Declan, age 14, who rocks the bass and lead vocals, 13-year-old Tayt, who is an amazing guitar player, and Riley, also age 13, who is a fantastic drummer. They were very entertaining and talented.  With their raw, edgy sound, DRT defiantly fit in to the "Kids Who Rock so Kids Can Talk" theme.
All in all, the "Kids Who Rock so Kids Can Talk" benefit show was full of great musicians, and DRT took it out with a bang.
(Editor's note: In keeping with the underaged theme of the Kids Who Rock so Kids Can Talk event, our guest concert reviewer was Cassy Hodgetts, a 16-year-old student at McNally High School.)