Kings of Leon play Rexall Oct. 1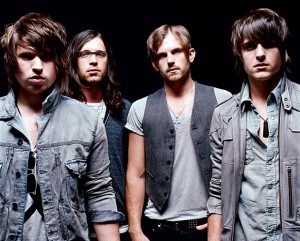 How's this for a beautiful story: A group of good ol' boys from rural Tennessee, one of them actually named Caleb, the son of a Pentacostal preacher, no kidding, wind up being the hottest alternative rock band in the land.
Well, shucks. Country music's loss is the alt-rock fan's gain – so expect a celebration when the Kings of Leon return to Edmonton to perform on Saturday, Oct. 1 at Rexall Place, on a North American tour behind their new album, Come Around Sundown. Tickets are $29.50, $49.50 or $68.75 and go on sale Friday at Ticketmaster here.
After years of toil in relative cult obscurity as a bluesy, artsy combo that came off like the Black Crowes' black sheep brother with a singer whose mouth seemed to be stuffed with cotton, the Kings refined their sound, hardened their edge, found their pop sensibility and slowly smashed their way into mainstream with their 2008 record Only By the Night. Fueled by great rock anthems like Use Somebody and Sex on Fire, the record took a while to catch on, but when it did, there was no turning back. Now here they are the rock critics' darlings when they could've easily taken the cowboy path well-trodden in their hot-country infested neck of the woods.