CONCERTS AHOY: Ray LaMontagne at Winspear Aug. 31, Lauryn Hill at EEC May 28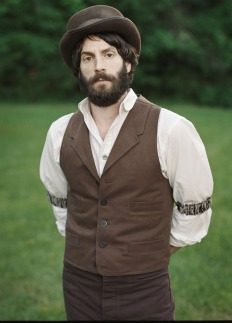 Are you ready for some groovy, folky, funky goodness, a little late summer chaser to the folk fest? Of course you are. Or how about a hip-hop queen?
Tickets go on sale Friday for Ray LaMontagne, performing with his new band the Pariah Dogs at the Winspear Centre on Wednesday, Aug. 31. and this just in: Lauryn Hill, at the Edmonton Event Centre on Saturday, May 28.
LaMontagne's new record is God Willin' & the Creek Don't Rise, where you'd wonder how this sort of material would go over in Manitoba right about now. The story goes that this New Englander was working in a shoe factory when he heard the sweet siren song of Stephen Stills. Inspired, LaMontagne immediately quit his job and turned into a full-time singer-songwriter, putting such passion and talent into his work that he has earned a healthy following and numerous awards, impressive considering his niche genre and that he only has four studio records. He's also placed songs on movie soundtracks and even on an episode of American Idol. But don't hold that against him. This guy is a roots guy through and through. Footwear's loss is music's gain. Tickets to the show are $39.50 or $55 and on sale (Friday, May 6 at 10 a.m.) at the Winspear box office here, or phone 780.428.1414.
Lauryn Hill, meanwhile, has added Edmonton to her Moving Target: Extended Intimate Playdate series. Expect selections from her 1998 solo breakthrough The Miseducation of Lauryn Hill, as well as "old school" tracks from the Fugees, of which she was a member. Tickets are $65 and go on sale Friday, May 6 at 10 a.m. at Ticketmaster here.