Little Women set to music at Citadel Theatre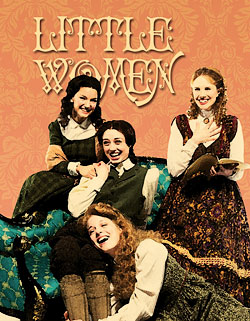 Let us take you back to a time when the word "gay" meant something else than it does today, when four teenage sisters with lots of time on their hands only got into the kind of trouble that was suitable for a family audience.
Continuing previews at the Citadel Theatre tonight and tomorrow before the official opening night on Thursday, Little Women is just one of many Great Works of Literature that has been turned into a modern Broadway musical. The novel by Louisa May Alcott deals with four sisters growing up poor and effectively fatherless during the American Civil War. There is romance. There is adventure. There is hardship and death. And now there is music to go with it. Hard to imagine? Consider all the characters – the hot-tempered mother, the haughty aunt, the dad away at war, the rich boy-next-door, the beloved housekeeper, not to mention the four sisters made crazy by hormones – and all the pluck and verve it takes to get by during those troubled times.
The New York Times praised the energy and enthusiasm of the musical after it opened in 2005, while criticizing it for skimming past events and poorly-fleshed-out characters like calendar pages flipping by in a movie. "They grow up so fast," someone says at one point. Indeed they do.
But this is a musical. It should stand up as a work of art on its own. You don't slam Les Miz for failing to live up to Victor Hugo's 1862 novel, do you? That would be ridiculous. Musicals require broad strokes, heightened emotion, complicated plot points summed up with three minutes song like "I'd Be Delighted" or "The Fire Within Me" or "Sometimes When You Dream."
In short, expect a gay old time at Little Women: the Broadway Musical, playing through May 22. Buy tickets online here or phone 780.425.1820.