PREVIEW: East Indian Vedic metal kings from Singapore
Posted on May 4, 2011 By Chad Huculak Culture, Front Slider, Music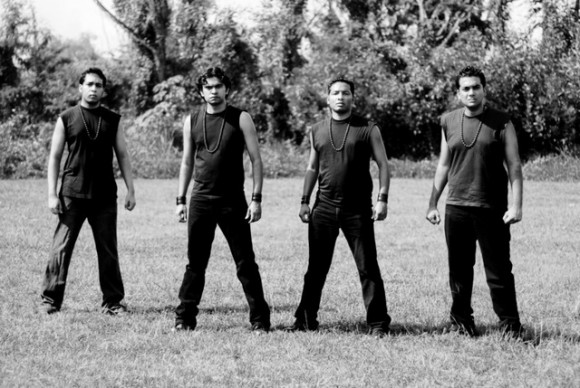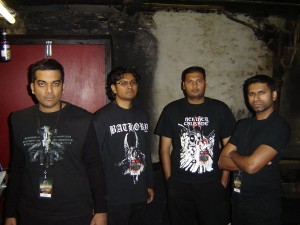 Europe has spawned many extreme metal acts who extol the virtues of their Viking forefathers.
Singapore's Rudra is taking a different angle: they're bringing ancient Eastern philosophy into the mix.
The band plays a style it refers to as Vedic metal, which fuses black metal, death metal, and Indian classical music with lyrics derived from Vedic literature.
"I think the ground was already set by many Viking metal bands and Pagan metal bands. They represent the culture and religion and beliefs of the Nordic vision, of other Pagan traditions of European ancestry," says Rudra frontman Kathir K, who says he has no surname.
"We thought, let's do something different, let's make metal a little more exotic."
Rudra (the name is taken from a fierce storm god in Vedic texts) leaves today on its first trip to Canada.
The band will play the Mead Hall, 10940 166A St., next Wednesday (May 11) with local black metal band Weapon.
"I have always been a fan, a big reader of different philosophies," Kathir says. "All of Rudra's members happen to be of Indian descent – all third-generation Indians living in Singapore. So we are very much in connection with our culture. So we realized that perhaps we should just dig into our past."
Kathir, who handles bass and vocals, says he found the teachings of the Vedas – which originated in India and are among the world's oldest sacred texts – very compatible with the music his band was making.
"They are also a little radical and extreme, just like extreme metal. So the context just fit perfectly," he says.
Rudra has started to catch the attention of metal fans out west in recent years, but the quartet has been around since 1992, when its four members were young Slayer superfans.
Rudra easily matches Slayer's musicality, while surpassing the American thrash masters in earsplitting extremity, as you can see in the video for Hymns from the Blazing Chariot, from the band's 2009 album Brahmavidya: Transcendental I.
Metal was a tough sell in early-90s Singapore, but it has become more accepted as bands like Metallica have hit the mainstream on an international scale. Still, it's extremely rare to see a metal act from Southeast Asia come through town.
"This could be primarily due to the fact that Singapore does not have a healthy music industry. Bands find it very difficult to survive just being down in Singapore," Kathir says. "And the big metal audience happens to be in the American continent and also the European continent. For bands to tour to America or Europe, it's very, very expensive.
"So what happens is, slowly, as time goes by, bands do give up. Because they find that they couldn't get the attention, they couldn't get the exposure, and neither can they sell enough to sustain their career. Most bands eventually realize that you're better to just have an 8-to-5 job and just take care of your family."
Rudra has bucked the trend by consistently touring and recording to slowly build its name – and perhaps more importantly, by always being open to experimentation.
Last November, for instance, the band played the annual Indian Arts festival Kalaa Utsavam in Singapore, where it performed with accompaniment from an Indian flute, female classical vocals and chants, and traditional dancers.
And get this: Rudra recently got in touch with a dance theatre about staging an extreme metal opera.
By incorporating other art forms, Rudra has also found mainstream acceptance at home – last August, it became the first extreme metal act to headline the Singapore alternative music festival Baybeats.
"Lots of bands, how they would define progression, would be … to change their music to become less extreme," Kathir says.
"We would like to maintain the extremity we have in the music that we play, but rather explore the new frontiers … performances that are out of the ordinary."