Seinfeld blasts Edmonton with hilarious nothings July 9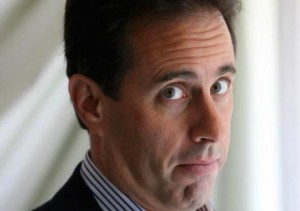 Some stand-up comedians are deep, so deep that they are called the philosophers of the modern age – the only people in the world who are expected tell the harsh truth and help us laugh at the tragedies of the human condition.
And there are guys like Jerry Seinfeld.
Master of Minutiae, Titan of the Trivial, the man whose entire career is based on a show based on nothing, Seinfeld returns to perform in Edmonton on Saturday, July 9 – for two shows, 7 and 10 p.m. Proving there is more than one way to evoke mirth, he is just as funny as any of the best "political" comics, focusing as he does on the little annoyances, the poodle toenails on the linoleum of life, as it were. Expect to hear this sort of thing:
"What is a date, really, but a job interview that lasts all night?
"I once had a leather jacket that got ruined in the rain. Why does moisture ruin leather? Aren't cows outside a lot of the time?
"The Chalk Outline guy's got a good job. Not too dangerous, the criminals are long gone.
"You know why dogs have no money? No pockets."
And so on. Those bits above were old, but the comic hasn't changed much – aside from marriage and fatherhood and whatever else a bazillionaire comedian does with his time. But he works himself into the show with the universal tidbits and quirks we all share – and that's why it works.
Tickets are $79, $99 or $125 and go on sale Monday, May 9 at Ticketmaster here.