HIP-HOP: Tzadeka literally all over the map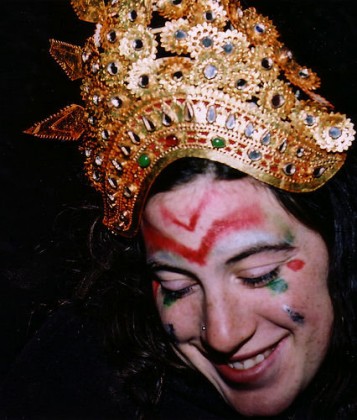 Now here's some kind of crazy hip-hop you're not going to hear on Virgin Radio's Booty Countdown – Tzadeka is off the charts in more ways than one.
Performing tonight at the New City Legion (8130 Gateway Blvd.),  Tzadeka is the latest hip-hop handle for Edmonton vocalist Maigan van der Giessen, whose music with her producer-partner Madame Wang (Mark Czuba) sounds as if Ani DiFranco joined the Disposable Heroes of Hiphoprisy with Jill Sobule as the back-up singer, the rhythm section from Soul Coughing and Tom Waits playing a one-string guitar. Clear enough?
Van der Giessen used to be in the now-defunct Edmonton hip-hop group called Eshod ibn Wyza – under the stage name "Solar Warrior" (hip-hop nicknames are so much fun) – before going solo several years ago to expand her horizons even further. You can hear elements of dub, jazz, rock, rap, groove, soul, ambient, experimental, you fling the label, it'll probably stick, topped with exotic touches that might be from the Middle East or India – and all under a name that's taken from a Hebrew word, on a new album that has a French title: Piece de Resistance.
Why not throw some Tibetan nose flutes and West African djembes in there while you're at it? For all we know, she already has.
Lyrically, like her old group Eshod ibn Wyza (He Should've Been Wiser?), Tzadeka's songs are completely free of rap clichés, no gangstas, no talk of being fly like a cheese stick – just words along these lines: "We are wolves, we are starving. We are some swans, I am ugly, I am beauty seeming" or here's something you probably wouldn't hear in a Jay-Z song, "Melody is the key to music, if you don't use it, you will lose it."
And this is hip-hop?!
Well, it's probably best to experience this sort of thing live. Tickets to the show – with openers The Jay Gilday Band and Hellpreacher – are $10 at the door.