TONIGHT: Artists for Life, Pink Floyd, Raygun Cowboys, Bobby Cameron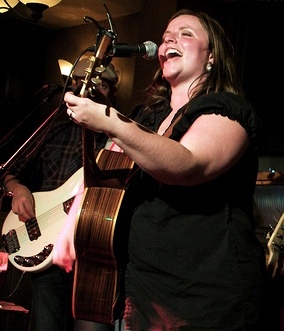 The only funny thing to say about Artists for Life – tonight at the Catalyst Theatre – is that the very title suggests there might be artists who are NOT for life. Even death metal bands are into life.
It's just so bleedin' obvious, isn't it? As is the desire to support worthy charities like HIV Edmonton, which got more than $8,000 from this annual fund-raiser last year.
On stage and screen for tonight's gala will be the films of Trevor Anderson, including his acclaimed and controversial short film about suicides in Edmonton called High Level Bridge – whose cinematographer is GigCity's own Fish "Fisheye" Griwkowsky. The film's been on the road a fair bit (Sundance, SXSW, etc.) and would be glad to be back home if films were actually sentient. There will be laid-back music by pianist Simon-Marc de Freitas, 100 Mile House and David Shepherd – and a not-so-laid-back concert from the Derina Harvey Band later on.
Tickets to the event proper are $50 and $20 for just the 9 p.m. concert only. VIP tickets are $100 and includes entry in a draw for some fabulous prize. Tickets are available through HIV Edmonton, or at the door.
HOW CAN YOU HAVE ANY PUDDING IF YOU DON'T EAT YOUR MEAT?! Never understood that line. Isn't Pink Floyd's most famous song supposed to paint a grim picture of the British Oliver Twisted school system of yore? How bad could it be when you have both pudding AND meat? Is there no gruel?
No matter. Just something we thought up while we were high and listening to the trippiest, most wonderful art rock band that ever existed. Any tribute is welcome here – tonight at the Century Casino you can hear the ultimate tribute to Pink Floyd. See? It's right there in the band name: Outside the Wall – Ultimate Tribute to Pink Floyd. Tickets are $20 here or at the door. Stand still, laddie!
PSYCHO, BILLY: If you like your rockabilly mixed with punk rock and rebellious horns in songs about death and life and God and the devil – that pretty much sums it up, eh? – please do attend tonight's performance of the Raygun Cowboys at the Starlite Room. The local band that dwells on death and thrives on the brisk thwip-a-thwip of the big bull fiddle will play selections from their aptly-named 2006 debut album, Underworld Boogie, and a whole lot more. Tickets are $12.
'BOBBY ROCK AND ROLL' GOES ROOTS: And it happened so gradually that we barely even noticed. "Those lines in my forehead aren't from age – they're bricks," says Bobby Cameron, who plays a SOLD OUT show at the Blue Chair Cafe tonight. The set list of original music will mainly be culled from fan requests, but the singer-songwriter-guitarist will unveil material from his upcoming album, Comfort Zone.