NEW MUSIC: Beastie Boys, Cold Cave bring it old school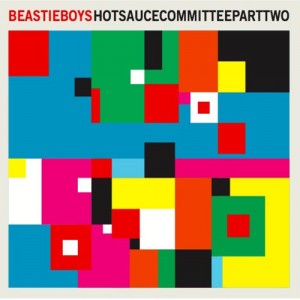 One band is New Wave. The other is old-school rap. But in a battle of sounds rooted in the 1980s, can the upstart Cold Cave match up with the Beastie Boys new release?
The Beastie Boys, who need no introduction, have been producing music for 25 years now, as their "Licensed To Ill" album debuted in 1986.
Their latest effort, delayed after member Adam Yauch was diagnosed with cancer, was finally released just this week, and is titled "Hot Sauce Committee Part Two" (Capitol).(Catch our recent "True Tales of the Road" with Mix Master Mike here).
The opening track "Make Some Noise" is  a traditional Beastie Boys piece of driving hip-hop, and is the first single off the album.  "Lee Majors Come Again" is a heavy, guitar-synth driven powerhouse; and the short but sweet "The Lisa Lisa/Full Force Routine" is a pure Beastie Boys rhyme festival. "OK" is one of their better tracks of the last few albums; When the band focuses on making music and rapping, its pure talent and raw energy shines through. Unfortunately, there are times when the Boys  get distracted during the album's journey, focusing too much on strange experimentation and bizarre noise effects. "The Bill Harper Collection" and "The Larry Routine", for example, leave the listener scratching their head wondering what the Beasties were thinking.
Regardless, the Beastie Boys have assembled a very solid album. It's unlikely it'll spawn another "Sabotage" or "Intergalactic", butif you like the band, you'll love this album; if you've found some of their tracks in the past 'interesting', you'll probably also find some tracks you enjoy on this album.
"Cherish The Light Years" (Matador Records) is Cold Cave's sophomore album, a follow up from 2009's "Love Comes Close". The band is the experimental synthpop project of New York's Wesley Eisold (Give Up The Ghost, Some Girls), but also in the now-trio are Dominick Fernow (Prurient), and Jennifer Clavin (Mika Miko).
The band and their new album are an interesting merging of mayhem and melody, very much new wave but with a harsher tone. The opening track, "The Great Pan Is Dead", is a four-minute journey combining fuzzy and overblown guitars with synthesizers and a drum track that leads to great promise for the remainder of the album.
The second track, though – "Pacing Around The Church" – reminds one of New Order so much it makes you wonder if it's just a cover. It's not. The third track "Confetti" is highly enjoyable, but likewise feels very much like a cover of New Order. And the trend continues. The horns in "Alchemy and You" were a nice change of pace; "Underworld Usa" starts with a driving beat that makes you think you might be heading somewhere different.
But almost every one of the album's 10 tracks makes the listener think they're listening to a New Order cover song without anything to add to the mix. And you'd be much better served by listening to actual New Order.
Michael Senchuk also writes about new music on his own blog, New Music Michael (http://www.newmusicmichael.com/).