Dennis Rodman celebrates 50th birthday – at the River Cree Casino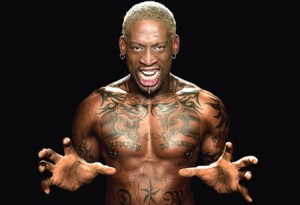 In this modern age of certain celebrities who have so little left to sell that they start selling their personal lives – even getting PAID to attend their own birthday parties – one wonders what sort of bidding war erupted with Dennis Rodman's impending 50th birthday.
Well, hey, we won – the River Cree Casino won, to be exact, where the NBA star will host his own Birthday Celebration this Saturday, May 14. His actual birthday is Friday, May 13, but it's close enough. Don't bother bringing presents. The guy's already got everything he needs. Besides, word on the street is that Rodman is being paid a tidy five-figure sum for this special casino appearance where all he has to do is show up. And so do his fans. Admission is free. There will be drinks (drinks are not free). There will be cake. There will be DJs spinning the hippest modern dance tunes to enhance the mood of the occasion. There will be Paul Brown and Yukon Jack from the Bear live on location for appropriate commentary. And the birthday boy will be there, too, of course. – Rodman, who is said to be the NBA greatest rebounder there ever was, has been deploying his charisma towards show business in all its possible forms, to great success. Action films, reality shows, you name it. And now he's the star of his own birthday party. Happy 50th, Dennis! You're lucky you get to spend it in Edmonton.