TONIGHT: Lanterns of Hope, Peking Acrobats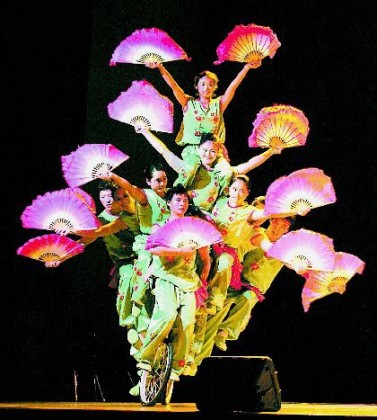 Today is an Asian kind of day.
Some heavy hitters are appearing at the Lanterns of Hope Japan fund-raiser tonight at the Pourhouse, 10354 82 Avenue. Paul Bellows has taken time off being the boss of the Yellow Pencil web design company to play a set of his award-winning Elvis Costello of the Prairies music. It's nice that he has a music career to fall back on in case this Internet thing doesn't work out. There's a draw for the theatre crowd with the appearance of PULSE, which contains Dave Clarke, known for local Spinal Tappery wherein a "fake" band magically becomes real. Consider this one's zany line-up: cellist Martin Johann Kloppers playing a "bloody skeleton-cello," the Japanese Taiko drummers of Booming Tree and Clarke as "chaos in a bottle." You guessed it: This started as a Fringe play. No word on whether they'd take a request for Honky Tonk Woman.
Also taking the stage will be Andrea House, Chris Smith and Dana Wylie. Tickets are $22, on sale here. All proceeds go to the Canadian Red Cross and will be directed to Japanese earthquake/tsunami relief.
Across the river at the Winspear Centre, the culture of China is well served with The Peking Acrobats, where the spectacle of nimble young men and women folding, spindling, flipping, stacking and stretching themselves is accompanied by a live symphony orchestra. The troupe has been doing this sort of thing since 1958 – long before Cirque du Soleil came along.
The show runs tonight (Monday, May 9) and tomorrow (Tuesday, May 10) at 7:30 p.m. Buy tickets here, or call 780.428.1414.