Win Buddy Guy tickets!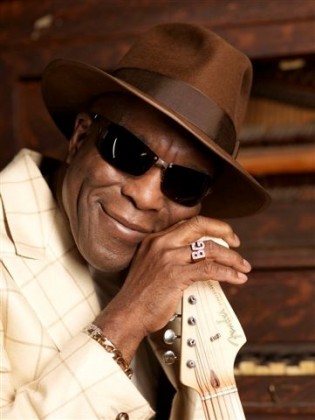 Edmonton seems to have a new once-a-week blues room with the Polish Hall – a little slice of the Chitlin' Circuit right here in the Big Onion. This Friday: Buddy Guy, the hardest working showman in the blues.
We have a pair of tickets to give away to the show, thanks to promoter Bryan Taylor at Concerts North, whose previous shows in the Polish Hall include the Fabulous Thunderbirds and Hubert Sumlin. Simply answer the following question – what is Buddy Guy's real name? – and email it here. Only one rule: No cheating by looking it up on Wikipedia. We'll be able to tell. Besides, it's probably wrong. We want a worthy blues fan who knows the answer off the top of his – or her – head. The winner should be a person who knows the pang of hard luck experienced for lack of any luck at all, who knows that Buddy Guy is the right guy, so to speak, who can lead the faithful out of their stormy Mondays back to that Sweet Home Chicago for a fun evening of blues burlesque. Real pain expressed in music? Maybe not. But if you like lots of yuks with your blues, Buddy is your man. He's touring behind his new album Living Proof, on which is a song he recently performed on Letterman: "74 Years Young."
Tickets to the show are $80, on sale at Blackbyrd Myoozik, 780.439.1273.