Santana comes to Rexall Aug. 30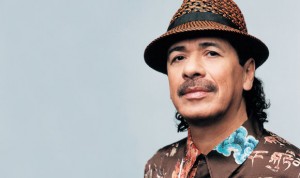 If anyone can think of another guitarist you can instantly recognize from a single note other than Carlos Santana, we're all ears. Can't do it? That's because there isn't anybody else with such a distinctive, passionate tone as Carlos. It's as if his soul is coming out through his guitar.
Consider this remarkable trait while you attend the return of the Classic Rock Event of the Summer with Santana, Tuesday, Aug. 30 at Rexall Place. Tickets are $40, $60 or $85.50 and go on sale Monday at Ticketmaster here. The great Michael Franti and Spearhead will open the show.
The tour has been dubbed the "Collective Consciousness Tour," which, if you've ever listened to Carlos talk, makes perfect sense. Call the guy a space case if you want, but his music is sublime – especially live, away from the rampant, celebrity-laden commercialism that's infected his albums in the last decade or so. The new product this time is called Guitar Heaven: The Greatest Guitar Classics of All Time, which includes Santana's reading of Whiles My Guitar Gently Weeps and – you guessed it – several star appearances.