Captain Tractor returns, one McDade to the good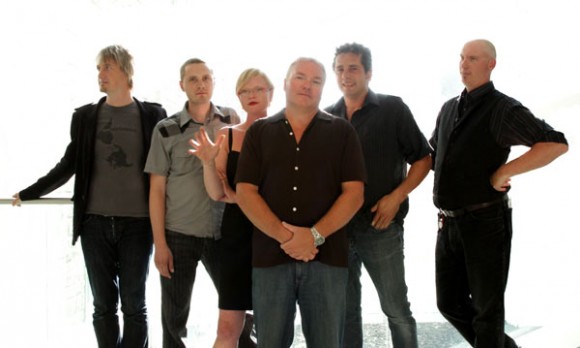 Local Celtic-rock heroes Captain Tractor have had a love-hate relationship with the Internet.
In the mid-90s, the band was hailed for getting online before its peers. Four years later, they were thrown into a sea of debt, thanks in part to illegal downloading.
Today, as the sextet readies the official release of its new disc Famous Last Words, frontman Chris Wynters is at peace with technology.
Captain Tractor will drop its first album in six years with a show at the Roxy Theatre (10708 124 St.) Friday night.
"I think in 1995, Captain Tractor was the first band in Edmonton to have a website. It was such a big, new thing. We actually had a cover of Vue magazine – I can't remember if it was Vue or See – but we were on the cover with all these little bits of computers and stuff like that, because we were so high-tech," Wynters says.
"It's kind of laughable now. And I have to admit, I don't think I knew what a website was when one of our friends said, 'I'm going to set up a website for you.' I was like, what, are you kidding me? I think that was the first time I ever saw what the Internet was."
Captain Tractor built heaps of momentum with its first three albums, making its way around the world on tour.
But the poppy '99 effort Slippery Traffic Jam nearly stopped the band in its tracks. Although the disc was hailed by critics and received mainstream radio play, the Internet was suddenly not so kind.
"The same year that that record came out, Napster came into being. And we were really creamed by people not buying the record," Wynters says.
"It was an interesting time. We spent a lot of money making that record and it kind of nearly killed us off."
When Wynters says they spent a lot of money, he means a lot – "a couple hundred thousand dollars," he recalls.
Ironically, the mountain of debt forced the members of Captain Tractor to stick together, if only to avoid bankruptcy.
Over time, they fine-tuned their business smarts and learned to only play profitable gigs – meaning no more bar shows in Nowheresville, Saskatchewan for $50 and a case of beer.
It was a hard road, but they got back on their feet.
"If it weren't for the fact that we were so much in debt in and around the year 2000, we probably would have broken up right then. But we were so far in debt, we had to stay together. Otherwise we would have each had to take out a $30,000 personal loan, and nobody would give us that," Wynters says.
"It was declare bankruptcy or keep playing. We played our way out of debt, and by the time we got out of debt, we all liked each other again."
Ten years later, the current band members are all active in Edmonton's arts scene in various capacities.
Shannon Johnson from Juno winners The McDades has joined the fold as a sixth member, and Famous Last Words offers a return to the jovial nature of Captain Tractor's early albums, like '95's East of Edson (which included a cheekily cool version of London Calling, by the Clash. Catch the video at the end of this story from the last night of Edmonton's famed Sidetrack Cafe in 2006.)
Wynters acknowledges the Internet has made it harder for talented independent bands to stand above the crowd, but he doesn't see that as a bad thing.
"I'm a massive, huge fan of Canadian Indie music. I listen almost exclusively to CBC Radio 3. I think that there's never been a better time for music in Canada, and that goes for Edmonton as well," he says.
"And for the consumer it's incredible, because you can have access to any of this amazing music right now. I can grab it and put it on my iPhone in a couple of minutes."
Despite stiffer competition, Captain Tractor's online presence has brought nothing but prosperity this time around.
Yes, it's safe to say our beloved Celtic rockers have prevailed over the evils of online piracy.
"We have a large fan base and a lot of them are on computers. So it's kind of cool that we don't have to tour that much to get to the core of our fan base," Wynters says.
"The record's selling really well on the Internet right now."