Alberta Ballet does Sarah McLachlan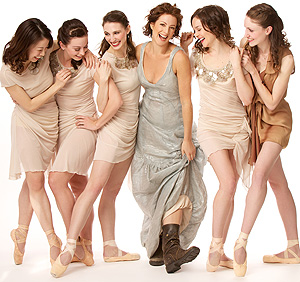 If there's any pop star whose music is better suited to the ballet than Sarah McLachlan, we'd like to know.
That's right, another musical challenge is ON – inspired by the Alberta Ballet's production of Fumbling Toward Ecstasy, tonight and tomorrow (May 13-14) at the Jubilee Auditorium. Odd to include the word "fumbling" in a show by a company famous for not fumbling. You'll have to take it up with the composer and with artistic director Jean Grand-Maitre, who has assembled a brand new original production based on the aching, melancholy beauty of McLachlan's music – from her entire career, not just the album Fumbling Towards Ecstasy.
The story follows the important moments in a woman's life: From impetuous youth to first love to first heartbreak to motherhood and beyond in a "circle of life" sort of thing. In short, right up Sarah's alley.
This show is the latest in a long legacy of popular music crossing over to the theatre stage – why, even Green Day can have a smash hit Broadway musical. Those guys from South Park have a big musical.
Here at home, the Alberta Ballet has staged productions based on the music of both Joni Mitchell and Elton John. Time for a canned quote from the blurb – Sarah is a big fan of Jean Grand-Maitre: "I am so looking forward to him focusing his passion and bringing my music into a new realm!" Exclamation point is hers.
So who's next in Canada for the high culture crossover treatment? Jann Arden? K.d. lang? Gordon Lightfoot? We're thinking some kind of nautical set design motif for him. There are lots of ideas. We're here to help.
Tickets to the shows run from $33 to $102 and are on sale here, or call 780.428.6839.