Into Eternity tests its mettle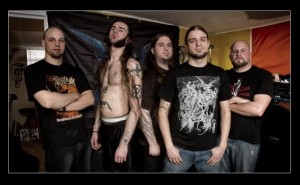 You have to admire Into Eternity guitarist Tim Roth for not losing sight of the fact that it's the music that's important.
If he didn't have that focus, going through a complete band membership turnover — and then some — could make even the most commited metalhead hang up his axe.
The latest change has been the Regina band's sudden second-fiddle status to lead singer Stu Block's new gig as frontman for U.S. power metal heavyhitters Iced Earth. So far, they're making the two-band thing work. But Roth, whose crew play the Pawn Shop on Saturday at 5 p.m., is realistic about things, and realizes that beyond the 2011 gig commitment, Block's future is bright.
"I think it was a no-brainer (for Iced Earth). Stu's a real talent," he says. "It's like having a supermodel girlfriend – eventually she's going to dump you. Stu is really that supermodel."
Roth says he's remained friends will all of Into Eternity's ex-members. "We're all real happy for Stu. Because that's always the dream, that you get pulled into the big leagues. Iced Earth makes good money and they have fans all over the world."
Block's wail would be tough to replace. But Roth has had a knack for picking up talent, including new drummer, Edmonton's own Bryan Newbury, of Death Toll Rising. Now he's working on the band's new album — and hoping Block will have time to work on it as well.
"I've always got to make sure, I'm going to need at least 10 amazing groove riffs, I'm going to need interludes and I'm going to need Iron Maiden guitar harmonies, we're going to need lots of death vocals, and I think of the vocal melodies," says Roth.
"In one way, it's been great, because on the Youtube page you have so many more hits and we're selling albums, just because people are curious to see who the new Iced Earth singer is."