TONIGHT: Geek Burlesque, Rap Battle and Accordion Concerto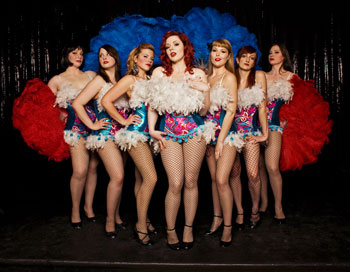 "Twelve fabulous girls in a tribute to geekdom." Yeah, baby – now we're talking. There's nothing sexier than a geek … said the geek.
A local troupe of plucky young girls who dance for the entertainment and titillation of the gentlemen – and ladies, depending – Capital City Burlesque is premiering a new show called Unleash the Geek tonight at the Starlite Room (where the floor to the stage is sloped to make you feel like you're in the Joker's hideout). Whoa! Back up here a minute: Burlesque shows in 2011? Watching this sort of thing takes you back to 1911. They're just showing more skin, that's all … and, um, where were we? Oh, yes, "geek" also meant something different in the old days. Something about biting the heads off chickens. Important disclaimer: No animals will be harmed in Unleash the Geek. Also, gentlemen are kindly requested not to touch the dancers.
Tickets to the show are $12 at the door.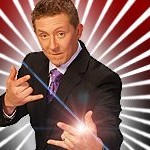 THE BATTLE BEGINS: Leading up to the Hip Hop in the Park event on Saturday, May 21 at Louise McKinney Park is a rap battle royale happening tonight at the Crown Pub. An extensive list of rules gives a rare insight into the world of hip-hop:
"FREESTYLE BATTLE
1. This is actually less of a rule and more of a note… This competition will be based on your FREESTYLE ABILITIES, rather than just your battle abilities. Challenges will include Role Play, Topics, and Flow alongside your standard head-to-head diss fests.
2. Emcees will lose points for unoriginality (recycled "you're gay", and "I banged your mom" lines)
3. 45 second, best of 3 rounds. Coin toss for who goes first. Reverse order on tie breakers.
4. Judges panel of 3. Crowd vote will also be taken into consideration.
5. No touching of your opponent.
6. Topics and role play characters will be emailed to registrants prior to the battle."
And so on.
All we can say is: Wow – battle is ON!
Along with the MCs, producers will also pit their beats against each other in the grapple pit. Winners will receive cash. Anyone can join in. Registration site is here. If you miss this one, don't worry: there's another battle at the Crown on May 17.
Admission is $5 at the door.
ACCORDION TO SOURCES: There's another rare thing happening tonight at the Winspear Centre: A classical accordion concerto. Now there's something you don't hear every day.
Composer R. Murray Schafer's piece is simply called "Accordion Concerto" because the title had apparently not been used before, and it will be performed by acclaimed Ontario accordionist Joseph Macerollo. Also in the program will be the Edmonton Symphony Orchestra performing Tchaikovsky's Third or "Polish" Symphony, under the baton of Montreal conductor Jean-François Rivest.
Tickets are $20 to $71, on sale here or call 780.428.1414.