NEW MUSIC: Fusion in sound and pictures from Art Brut and Moby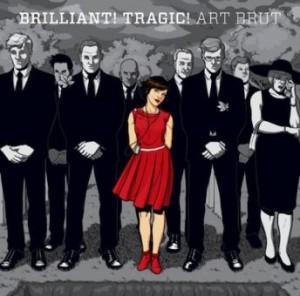 How often do you get amazing art, and amazing music, from one album? Twice in one week!
Art Brut will release its fourth studio album, titled "Brilliant! Tragic!" (Cooking Vinyl), on May 23. The English/German indie rockers take life as it comes to them, are known for their humorous lyrics and antics, and fill each song with punchy, loud guitars and frenetic drums.
A lot of the songs are reminiscent of the Pixies – that's both purposeful, and also owing to the fact that the Pixies' Black Francis has produced the last two albums. According to Art Brut frontman Eddie Argos, the band spent more time in the studio this time than other albums, allowing, as Argos said in jest, Black Francis "time to teach me how to sing … it only took four albums."
The album cover was provided by comic book artist Jamie McKelvie, as was the cover of the band's previous album. McKelvie will be known to comic aficionados as the artist of the brilliantly drawn Phonogram, where Britpop music is used to weave magic. The album cover for this disc (pictured) is graphic-novel-inspired, with a peppy brunette wearing a red dress surrounded by sombre grayscale folks, seemingly at a funeral or other sober occasion.
With lyrics like "this world is f**ked … and you're an idiot … take a look at my middle digit" – from the song "Axel Rose", a poignant discussion of how Argos would rather have Rose in his corner than most anyone else; to humorous-yet-insightful verse like "I bet he signs his name in Comic Sans" ("Bad Comedian"), combined with simple but toe-tapping melodies, Art Brut has proffered a unique and tidy collection of 10 songs.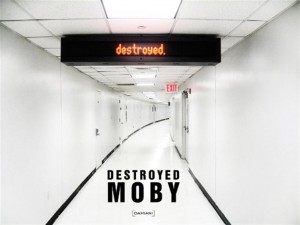 Moby's new album, his twelfth, is set to be released this Tuesday, May 17. Titled "Destroyed" (EMI), it features more of his signature sound, but also features a sequence of Moby's emotionally-charged photos in the CD booklet (as well as the album cover), and an accompanying book which should be out soon. The photos were all taken during his recent tour while writing the album.
This album feels darker and more desolate than many of Moby's previous offerings, an unsurprising eventuality of him writing most of the album while on the road. According to him, "it was primarily written late at night in cities when I felt like I was the only person awake — or alive."
Notable tracks include "The Day", which seems at once classic Bowie and orchestrally arranged  – an epic track worthy of a greatest hits compilation down the road. "Victoria Lucas" is another highlight, with beautifully synchronized vocals and synthesizers.
Singer-songwriter Emily Zuzik co-wrote and sings on "The Low Hum", definitely one of the strongest track. Expect to hear more from Zuzik in the near future – she will be releasing her seventh solo album this summer.
Despite the solemn, isolationist tone, the diversity Moby displays in the writing and performances on this album is perhaps his widest ever. Listen to a couple of the tracks, but instead of downloading it do yourself a favor: buy the CD or vinyl edition so you can also enjoy the extraordinary photography.