Five violins, one viola vie for $8,000 prize at Muttart Hall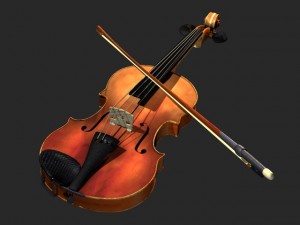 It sure is swell to be a musician or artist in Canada – what with all these $1,000 bills fluttering around. Now it seems to be the string section's turn.
No less than Eight Large will be dropped on the winner of The Shean Strings & Piano Competition, the final performance round of which is taking place Thursday and Friday at Muttart Hall.
Battle on! Sorry, this ain't no Band Warz. It's classical. It's classy. It's "legit" all the way.
The competitors selected from 20 worthies from across Canada are five violinists: Esther Hwang (Vancouver), Bénédicte Lauzière (Montreal), Meghan Nenniger (Calgary), Joshua Peters (Winnipeg) and Christopher Whitley (Toronto); and one viola player Eleanor Kendra James, from Vancouver. Will the violin vote be split and Eleanor come on top, or is there more to it than that?
There's more to it than that. The Edmonton Symphony Orchestra's own David Hoyt is one of the judges for the performances. The string recitals take place on Thursday, May 19 from 1-4 p.m. and again from 6:30-9:30 p.m. The string concerto portion will happen Friday, May 21 from 2-4 p.m. and 6:30-8:45 p.m. The awards presentation and reception will happen afterwards. Admission is free to the public.
In addition to the $8,000, the winner will be invited to perform with the Edmonton Symphony Orchestra at a later date.