VUE and SEE magazines set to merge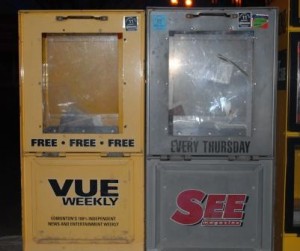 Word on the street is that there will be … fewer words on the street.
Edmonton's two weekly magazines, VUE and SEE, are preparing to merge into one – according to businessman Bob Doull, who now owns both of them. He revealed the tentative plan on Monday.
"There are lots of details to be worked out, but merging the two into one title would be the logical thing to do," he says. "There's already been quite a bit of discussion in the community – they don't like having to choose between the two publications, so there's quite a bit of pressure to bring this to resolution in the next couple of weeks."
Doull, who owns 13 small newspapers in B.C., closed the deal to buy SEE magazine on Monday, May 16 through his new company Postvue Publishing. He bought VUE in January – a move he says came at the request of his old friend, VUE publisher Ron Garth, who is not in a financial position to keep his magazine going any longer. Let's not get into that.
The new owner says he's promised staff from both VUE and SEE that their jobs are safe – "if they want them" – noting that if Postvue is going to compete with the free dailies, the magazine has to be bigger and more extensive than before.
Just think: They won't be killing each other over ad dollars, there won't be these ridiculous VUE-SEE allegiances and there won't be this low-grade confusion – "hey, I read this great article in SEE, or was it VUE?" – that local citizens have been suffering from since the Great Edmonton Weekly Schism of 1995.
Here's what happened: At one time, there was the Edmonton Bullet, a flaky, literary arts rag run by a bunch of new-age hippies (full disclosure: I was an ad guy there for one year). Along comes Ron Garth to start up a new magazine called Something Entertaining in '87 – the Bullet's only competition – which he later turned into SEE magazine. Already floundering, the Bullet folded, its remains absorbed by SEE.
This new magazine was struggling, too. After a time, there were new owners and Garth was forced out. He didn't take it lying down. Later that same night, legend tells, the determined publisher and several loyal henchmen staged a bold midnight mutiny. They went to the SEE offices, absconded with all the gear necessary to put out another issue and moved it all into Garth's basement where they worked feverishly to publish a brand new magazine that looked exactly like the old one. Except it was called VUE. It appeared on the newsstands later that week as if nothing had happened. Readers were mystified. No explanation was offered. The week after, SEE – minus Garth – was back on the street, too.
It's been this way ever since.
There has been a certain amount of genetic magazine drift over the years, each mag forming its own identity apart from the shared parent. SEE perhaps emerged as the scrappier of the two, with VUE getting the edge in the "street cred" department. That SEE wound up being owned by an out-of-town company caused some indignation among those who care about such things, but both magazines proceeded to cover Edmonton's arts and entertainment scene like a giant, warm blanket of newsprint. Personally, I'll miss picking up two different local weeklies every Thursday. They'd better keep Bob the Angry Flower is all I can say. Hey, how about an entire comics page?
Kennedy Jenson, president of the Alberta Music Industry Association (AMIA), says that while some musicians have had allegiances to one or the other – AMIA in particular put its ad dollars in VUE to "honour the local rag" – the merger should only make a better product. Other arts people in town have said that Edmonton needs a strong weekly paper like the Georgia Straight in Vancouver. On the other hand, it's one less local media outlet for emerging artists who need the press.
"That's progress, I guess," Jenson says.
Longtime SEE contributor Fish Griwkowsky is all for it: "It's a great and clever move because not only does it bury the hatchet between the papers, but by conglomerating their advertising departments they no longer have to economically wrestle each other for the chance to engage the city's soul. I'm a religious believer in the cultural importance of weekly newspapers – the chance to finally, formally collaborate with VUE's bright and talented is extremely exciting. It's like we've all been at a junior high dance with a wall between us and the real music's finally starting. Expect big things."