GIG-A-BITS: Daniel Tosh, SOS Fest, Warhol Superstar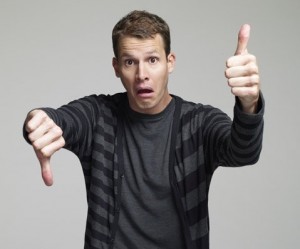 If you're a fan of the wacky TV-video clip comedy show Tosh.0 on the Comedy Network, you surely won't want to miss an actual live performance from the man behind the Internet insanity – Daniel Tosh.
One of the brightest new stars of comedy brings his button-pushing wit to the Winspear Centre on Monday, Aug. 8. Tickets are $35 or $45 and go on sale Friday here, or call 780.428.1414 for details. He looks like such a nice young man, but watch out. Nothing is taboo with this guy – which should be unnecessary to even say because most great stand-up comics are not only allowed, but expected to slaughter all our sacred cows. It's a dirty job but somebody has to do it.
Tosh talks about people who smoke marijuana: "Why don't you grow up and do coke like an adult?"
He tackles Eve being blamed for getting mankind kicked out of the Garden of Eden: "Come on, ladies, do you have to eat everything?"
He broaches the idea of God hating gays: "God doesn't hate gay people. He's just upset they found a loophole in the system."
And that's just the stuff we can publish. Don't say you haven't been warned.
SCALED BACK SOS FEST ANNOUNCES LINE-UP: Whyte Avenue turns into a big party every summer weekend whether the Old Strathcona Business Association wants it or not – but there are times the venerable OSBA adds some fuel to the fire.
Like with the second annual SOS Fest, happening only one day this year – Sunday July 10 – on Whyte Avenue between 103 to 105 Street, which will be closed to vehicular traffic from noon to 7 p.m. A stage on each end of the site will assure a non-stop stream of live music from some of Edmonton's top up-and-coming bands. The acts announced today are Gobble Gobble, Little Miss Higgins, Luke & Tess Pretty, Peter Elkas, Scenic Route To Alaska, The Dudes, The Heartbroken, The Pack a.d. and Wool On Wolves. Kind of a wilderness animal theme going here, as you can see. Admission is free.
BE A REFINERY SUPERSTAR! Do you have the ability to "get your freak on" to a level necessary to hang with Warhol? Then you may be the prime candidate for the Superstars Wanted Contest being put on by the Art Gallery of Alberta (AGA) in honour of the Andy Warhol exhibit that opens May 28.
Fans (18 and over) of the AGA's Facebook page may enter to become the AGA's "Refinery Superstar." Simply submit a photo of yourself based on Andy Warhol's famous Screen Tests (explanation on the Facebook site), accumulate the most "licks" … er, we mean "likes" and you're the winner – of four tickets and a limo ride to the Refinery Factory Party Saturday, June 4 at 9 p.m.
All other non-superstars may purchase the $25 tickets to the event online here. Along with catering and a cash bar, the night will feature art displays, Super 8 video portraits and DJs spinning the sounds of the '60s "and more." Yeah, baby, as Warhol himself might've said if he hadn't been far too cool for his own good.