PREVIEW: Wyrd and Wonderful, 3.0
The third annual Wyrd Music Festival takes over Dinwoodie on the University of Alberta Campus this Friday  for its first of three dates across western Canada.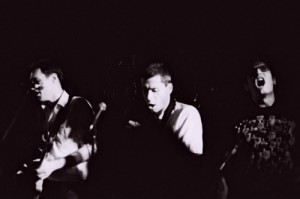 Two stages will host the bands throughout the day and into the wee hours, trading back and forth so there's absolutely no down-time between bands. Other stops include Calgary on Saturday at the #1 Legion; and Vancouver on Sunday at The Waldorf, the first time the festival has extended beyond Alberta borders.
Although the organizers pride themselves on not having any "headliners" per se, with the lineup shuffling up and down at each venue, notable acts will include Tonstartssbandht (top)  from Montreal, Gobble Gobble, Dirty Beaches, and The Ketamines.
We caught up with the two co-founders of the festival recently — Aaron Levin from Weird Canada, and Paul Lawton, of Mammoth Cave Recording Co.
Gig City: What was the impetus in creating the Wyrd music festival in the first place?
Paul Lawton: In 2009, I put together the Mammoth Cave Festival in Lethbridge; and later the same year Aaron did Wyrd I in Edmonton, which was a very similar format, with many of the same bands. After talking, we linked the festivals, and added Calgary thanks to a tie-in with Sled Island.
Aaron and I are pretty close in terms of our philosophy of music — the idea being that when you throw disimilar-but-like-minded bands together, their draws are additive, so you can take a bunch of bands who might normally draw 50-100 people, and combine them so that others are drawn in by another band on the lineup. Small niche bands then get to play for big audiences who will often be "surprised," and the end result is tuning people in to new music.
Gig City: Tell us about the first two years of the festival.
Paul: Wyrd has been successful right from the start, though each stop certainly comes with its own unique challenges. Last year was particularly rewarding for me personally, getting to see WOMEN at the top of their game, and having the Famines close out Lethbridge with a set that I would call a religious experience for me.
Gig City: Was adding Vancouver the obvious evolutionary step?
Paul: WYRD II was Calgary/Edmonton/Lethbridge. In Lethbridge, we lost our two-stage venue and honestly, though I live here and love it, Lethbridge is a hard city to sell this kind of festival to. We figured Vancouver would be twice the result with a quarter of the headache, and The Waldorf hotel threw us an offer that we couldn't refuse.
Saskatoon was probably the obvious evolutionary step because it is so close to Alberta and it is currently a hotbed of weird music. I think we are going to do a trial mini-Wyrd in Saskatoon this summer to see how it goes.
Gig City: The lineup features an eclectic assortment of bands, many of whom a lot of fans will have never heard of before. Tell us about a few of your favorites.
Paul: I'm really excited that Red Mass is coming out, I've been a longtime fan of the stuff Roy has been doing for years now, and CPC Gangbangs were a huge influence on me personally. Every Red Mass record sounds different somehow – inspirational.
Aaron Levin: I'm really excited to be bringing three Francophone bands from Montreal. While Canada celebrates Montreal's musical diversity with a lot of enthusiasm, our support for the Francophone community out West is quite minimal. Femminielli, Hobo Cubes, and Velvet Chrome are sure to bewilder and I'm really excited for that. Otherwise, Dirty Beaches is such an amazing performer, as are Halifax's Long, Long, Long. And, secretly, I really want to see Wyrd Visions do his double-necked acoustic black metal wizardry.
Paul: I've long-held Role Mach (above right) to be one of the most underrated bands in Vancouver. The band brings a full horn section that is used to make a live wall-of-sound in the Phil Spector sense, and singer/guitarist Patrick Geraghty is probably one of the most intelligent lyricists I've come across.
Gig City: Printing tickets on Magic the Gathering cards has definitely gathered some attention. What was the purpose of doing the physical tickets that way?
Aaron: For one, it helped me get rid of a bunch of rotting magic cards I had amassed (embarrassingly) during my early 20's. Second, I wanted to create a ticket that people were proud to purchase, one they could show off to their friends, talk about with other people, and ultimately promote the festival. Third, I wanted to encourage people to buy the tickets early. And lastly, I needed a ticket large enough to print the schedule on. The set-times are short and many of the bands are unknown, so having a reference on-hand is very helpful for the audience.
Gig City: Finally, we'd be remiss if we didn't congratulate Aaron and Weird Canada on being named CBC Radio 3's "Best Indie Music Website in Canada". Has that changed anything in how you approach the festival or your blog, or the reception you receive when you tell people who you are?
Aaron: Weird Canada is so much more than just me, and is merely a champion of this marginalized stream of musical consciousness that is often passed over by mainstream media. And it was this effort that led to the victory. As such, the victory has not changed Weird Canada's modus operandi.
However, it has had a tremendous impact on how people receive Weird Canada. Everyone seems to take it seriously now. But I wonder why it took a nod from a huge publicly funded media establishment for the site to be viewed positively in the industry's eyes? Nevertheless, it was a huge spirit boosting experience and has given us further encouragement to continue scouring the muck of our nation's unbridled creative expression in search of random reverberations playing catch with our distuned receptors.
Michael Senchuk also writes about new music on his own blog, New Music Michael .