Cancer Bats fly out for a hardcore night at the Starlite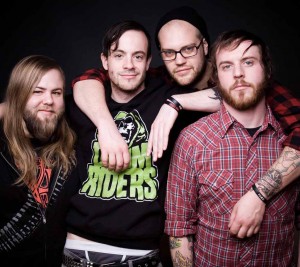 The Cancer Bats don't seem to care much for being at home. If you follow the Toronto-based hardcore band, you'll notice they come through town just about every few months.
But their frequent treks across the continent aren't always smooth.
"We're just sitting in an intersection. We're blocking the whole intersection because our (vehicle) got stuck in the middle of a bad turn," singer Liam Cormier explains when reached on his cellphone last weekend. "We're never getting out of here."
The Cancer Bats hit the Starlite Room next Wednesday (May 25) on a co-headlining trek with Canadian metal faves 3 Inches of Blood.
They'll also be joined by Barn Burner , Fame and Randy Graves.
"It's one of those things. You tour a lot, it's bound to happen," Cormier continues. "This is the road, man. It's like getting robbed or breaking down; the more time you spend in your car the more shit's gonna happen."
Straddling the lines of punk, hard rock, hardcore and metal, the quartet keeps its shows fresh by touring with a variety of bands.
The fans who come out to see them open a pop-punk show, for instance, likely won't be the same ones watching them play alongside a death-metal band on their next visit.
"For us, we're always doing different tours. Last time we were in Edmonton it was with Devildriver, the time before that was with Billy Talent, which were completely different shows," Cormier says. "This time we're coming through as a co-headliner with us and 3 Inches, that's going to be different too. It's always awesome."
The band returned from a European jaunt last month, and wasted no time hitting the road once they got back to Canada.
But the constant traveling is paying off.
The Cancer Bats' third album, Bears, Mayors, Scraps and Bones, earned the band a 2011 Juno nomination for Rock Album of the Year – two years after their sophomore disc Hail Destroyer got them a Juno nod for New Group of the Year.
"It's neat to see that another side of the music industry … is kind of recognizing what we're doing," Cormier says.
The band is also turning on new fans with its latest single, a juiced-up cover of the Beastie Boys' classic Sabotage, with a hilarious accompanying video.
Longtime fans of the New York hip-hop trio, the Bats chose to record the song after it became a staple at its live shows.
Not wanting to upset the Beastie Boys, they tried to get the blessing of Mike D, MCA and Ad-Rock, but to no avail.
"We asked to kind of see what they thought about it and to make sure it was cool, and we never really heard anything back," Cormier says. "But I mean, those guys were all so busy. MCA was in the hospital with cancer treatment and stuff like that, so I'm sure some Canadian band asking to cover their song wasn't a real huge priority."
The band plans to hit the studio to write and record a new album this summer, planning an early 2012 release.
Then it's back out on the road.
"For us, we're a hardcore band. That's always been the way that you promote your band," Cormier says. "It's not about being on a record label or whatever. It's always through meeting kids and grinding it out and playing shows."