Local rockers unite for Slave Lake Aid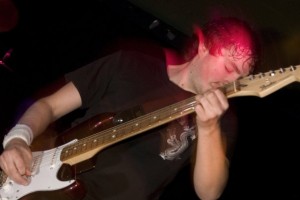 Entertainers are in the unique position of being able to help others by doing exactly what they'd be doing anyway – entertain.
Most civic-minded citizens volunteer for jobs that they don't do every day, or aren't necessarily qualified for, such as serve on the board of a community league or, say, grab a shovel and go fight forest fires. No, musicians and actors and other entertainers ill-suited to hard labour can simply grab a guitar and perform for free – and do far more good in the bargain.
While musical philanthropy doesn't work very well when the target is misdirected – such as Live Aid, where trucks of food bought by charitable rock fans around the world were promptly stolen by the same corrupt government that caused the famine in the first place – when the disaster is grave and the need is clear in a free and stable country like Canada, "Live Aid"-style events can work wonders.
So take your pick of Slave Lake Aid shows. We stopped keeping track of how many a while ago. Let's just say it might be hard to see a live show in town whose performers aren't raising money for victims of the Slave Lake. Up to 10,000 people are homeless. You of course can always donate directly to the Canadian Red Cross, but if you're going out to see a gig anyway, the more the better.
The socially-conscious Bobby Cameron was among first area entertainers to post on Facebook Monday morning after the fire: "Something must be done." Scores of other musicians and entertainers echoed the sentiment and plans for multiple benefit gigs came together within hours.
Hypnotist Sebastian Steel was first out of the gate to announce a marathon untelevised telethon – running straight through tonight (Sunday, May 22) at Bunkers Sports Pub, 615 Hermitage Rd. Tonight's all-ages portion will featuring the Command Sisters, DRT, Wayne Allchin, Marshall Lawrence and Paula Quilty Perro, among others.
Tonight (Sunday, May 22) at the Starlite Room is an all-star bill of local rock bands: Tupelo Honey, Dirty City Hearts (above), Random Falter, Nobody Likes Dwight, The Apresnos, Who's the Hero? and Dead In Memphis. Tickets are $15 at the door, all proceeds to the Red Cross.
Edmonton Musicians United For Slave Lake & Northern Disasters has a fundraising concert at the Avenue Theatre on Monday, May 23 starting at 3 p.m., featuring both a Motorhead tribute (Motorhezbollah, left) and an Ozzy Osbourne tribute (The Ozzy Osbourne Experience), along with, Painting with Ella, Jessica Moffatt and Marshall Lawrence. Admission is by donation. As with Sebastian Steel's Marathon, there will be a moving truck on hand to accept needed items, clothes, toiletries and so on. J&R Hall Transport's Truck and Two Small Men With Big Hearts are among the many local companies helping with Slave Lake disaster relief.
Bobby Cameron, meanwhile, is in cahoots with promoter and CKUA guy Peter North for a bluesy benefit show planned for June 11 at the Century Casino. On stage will be Front Porch Blues, Brent Parkin, Rachelle Van Zanten and more, including Bobby himself, of course. Details to come.
< ![endif]–>
Saturday, June 4 at the City Centre Church (10233 Jasper Avenue) is an eclectic bill of blues, roots and jazz with Marshall Lawrence, Brett Miles, Ben Sures, Harpdog Brown and the Bloodhounds and more, from noon to 10 p.m. Admission is $10 at the door.
The list will go on.
What more can entertainers do to help? Plenty. Much as some people hate the song "We Are the World" and find the whole celebrity public charity schtick terribly embarrassing, there is a good possibility one or more of the above-mentioned charitable musicians might be inspired to write a song about the Slave Lake disaster. You could get a bunch of famous area musicians to record the thing and sell it. Corny? Sure, but people would buy it. It all helps.
Record producer Phil Anderson of Powersound Studios says he's willing to offer his studio for anyone willing to step up. "But it would have to be done right away," he says, adding that he seems to have some free openings next week. Interested musicians should call him at 780.453.3284.