Michael Buble returns to woo our women Aug. 8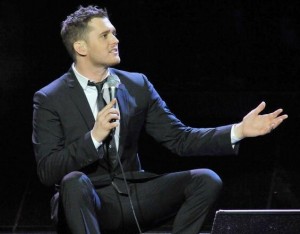 Were Frank still alive, you have to wonder whether he'd accept Michael Buble into the Rat Pack – or would he think this Canadian kid has a little too much chutzpah to roll with the cool Vegas crowd?
Moot point. Buble rules in his own way, master of the knowing smirk, the well-placed cuff-pop and the smoky glances to the ladies that make them melt into their seats. One for the ladies? They're ALL one for the ladies. In a way, Buble is a parody of himself and by extension the whole cheesy, corny, croon-worthy Vegas lounge schtick – and yet paradoxically is one of the best interpreters of the Great American Songbook you'll find working today. It's a delicate balance – as you may find when Buble comes to Rexall Place on Monday, Aug. 8. With Naturally 7 opening – a group of singers who do pop hits like In the Air Tonight a capella – tickets are $29,  $45, $75 or $115 and go on sale Monday, May 30 at Ticketmaster.
With Edmonton being the only Alberta date this summer, Buble is touring behind his new album Crazy Love, which contains the usual slice of classicana like Cry Me a River, All of Me and Georgia on My Mind, along with track by and featuring Ron Sexsmith – so big points for trying something a little different!
Frank, we imagine, would approve.