NEW MUSIC: Ben Harper, The Trews and getting to a point
Completing an album that's solid from front to back, stays true to your artistic vision… but also pushes some musical boundaries to garner new fans? It's an incredible challenge. Are Ben Harper and The Trews up to it?
Two time Grammy winner Ben Harper released his latest album, "Give Till It's Gone", last Tuesday (May 17). The album is a retu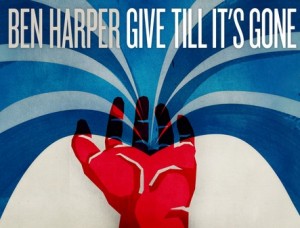 rn to solo work, after the previous two efforts were recorded with the Innocent Criminals and Relentless7, respectively. Regardless of who he's playing with, Harper is known for covering a great range of musical genres. On this album, you can find folksy ballads; rock songs; and a lot of rhythm and blues influenced tracks. There's even some electronic synthesizers mixed into some of the later tracks.
"Rock N' Roll Is Free", one of the aforementioned rock songs, will make an excellent addition to his on-stage repertoire – perhaps even as an opening number – with heavy guitars and a catchy melody and refrain. "Clearly Severely" reverberates with throwback guitar riffs, and is another strong track. "Spilling Faith" is a magnificent fusion of R&B and rock.
If there's one downfall to the album (and Ben Harper in general), it's that with this great range there doesn't really seem to be a raison d'etre, a running theme or story if you will, that almost every really memorable album has. There are a couple filler tracks on the album as well – "Feel Love" finds Harper whiny and nasally, a song that's easily skipped from the first listen; "Pray That Our Love Sees the Dawn" is another ultra-slow ballad that misses the mark.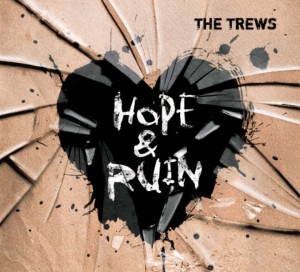 Harper's "Give Till It's Gone" really does – give and give, that is. Most tracks find Harper's inexorable talent oozing through the speakers, grabbing and tugging on your heartstrings and other emotions. But the tracks seem one-offs, and it's hard to tie them in to an overall reason for the album. Perhaps that's by design in an age when we so often just grab the tracks we like and leave the reset.
The Trews, from Nova Scotia but now based out of Toronto, released their fourth studio album, "Hope & Ruin", on April 12. They performed a few private shows for fans across Canada around the release date, and are now opening for Kid Rock across Canada, including here in Edmonton last night. Previous albums have included notable hits such as "Paranoid Freak", and "Not Ready To Go", which was the most played song on rock radio in 2004. "Hope & Faith" was recorded at Tragically Hip's legendary Bathhouse Studio, as the band worked with the Hip's bassist Gord Baker on the album.
The album has a few highlights – like prior albums, The Trews know how to grind out a solid rock song. The title track "Hope & Ruin", a slow-tempo rock song, was used by CBC in the opening montage of the Vancouver-San Jose playoff series; the opening track "Misery Loves Company" is a heavy, guitar-driven jaunt; and "I'll Find Someone Who Will" is a quaint, albeit sad, sing-along pop track.
But as with Harper, there's no progression, no theme within the album itself, and no evolution from past efforts. "People of the Deer" provides some interesting and experimental guitar work, but other than that, the remainder of the songs sound remarkably like Trews tunes of yesteryear.
The resulting album adds a few songs to any future "Best of" collection, but definitely seems to be missing that elusive magical elixir that accompanies a great album. It fails to bring about a tangible emotional response, perhaps even cries out with a lack of original substance.
For that reason, the album probably won't make The Trews a lot of new fans. If you've liked their past material, you'll enjoy this album. If you haven't found yourself enthralled by past efforts, this album isn't going to change your mind.