Planning underway for Alberta Arts Days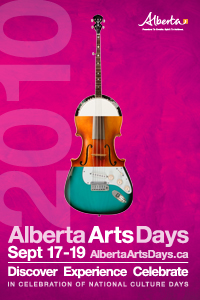 You: Artist.
It: Art.
Needed: Exposure.
Thinking: Wishful.
OK, now that we're past the initial cynicism at the concept of getting arts promotion for free, we remind you that this opportunity comes not for free, but at the expense of taxpayers….which includes the artists.
And it's quite the opportunity. As part of Alberta Arts Days celebrations province-wide from Sept. 30 to Oct. 2, Alberta Culture and Community Spirit is funding a slew of arts- and charity-related agencies across the country to offer promotions.
And it's offering promotions directly to individual artists with Arts Days ideas via the web.
"We're hoping the leadership shown by the Celebration Sites will inspire even more Albertans to get involved," said Lindsay Blackett, Minister of Culture and Community Spirit and guy responsible for handing out the dough. "Some amazing relationships have developed from the partnerships that were formed in previous years."
Each organization receiving support will partner with others in their community to present free, family-friendly events and activities during Alberta Arts Days . Host Celebration Sites must present programming for two days and Feature Celebration Sites must present programming for all three days as well as stage a main event. A total of 69 groups are dividing $375,000 in funding for the event.
In Edmonton, those groups include A. Blair McPherson School, the Art Gallery of Alberta, E4C, The Edmonton Folk Arts Council, The Edmonton Latvian Society (Imanta), The Edmonton Public Library, The Winspear Centre, the National Black Coalition of Canada Society, Edmonton Chapter, the New Home Immigration and Settlement Centre, and the Writers' Guild of Alberta.
Meanwhile, individual artists hoping to partner with each group can arrange it through the event's website.