EDMONTON RADIO: Country sucks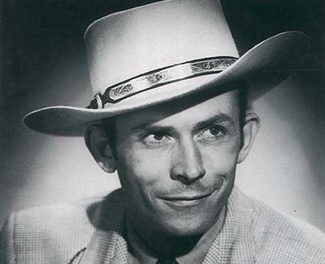 A lonely man weary from an honest day's work is driving down life's highway in a big truck, smoke rolling out the window, an ice cold beer sitting in the console, the lights of his home town only a few miles away. He's heartbroken after another man kissed his girlfriend while he held the man's beer, right before she peeled away with the rearview mirror torn off so she couldn't see the pieces of his heart she left behind. Or maybe it's the pieces of her heart. He pines for times back when, talks to God because he knows God is there and does his best to cowboy up. He swigs his beer and tries to find something good on the radio.
He is even more heartbroken for the effort.
What in tarnation is going on with country music around here? Alberta is supposed to be a country hotbed, but most of our stars had to go Nashville to get anywhere. Some didn't and had to come back. Country radio, meanwhile, is a joke, and Edmonton's live country music scene is beyond sad.
Could there be a connection here? During a three week experiment of complete country immersion, I tried to find out.
CISN Country 103.9 FM is the only full-time country station on the FM dial. It runs unopposed as the No. 1 FM station in Edmonton. Like every commercial country station in North America, CISN plays pretty much whatever the Nashville music factory feeds it – watered down, overproduced, insincere crap. It's a funhouse world where every man drives a truck, has a respectable blue collar job and likes to have a few beers at the bar after work before going home to the wife and kids, who are just like him – or maybe he's just like them – and every female singer is either after a good man or complaining about a bad one. And they all drive trucks. Many songs not only use truck metaphors, they're actually ABOUT trucks. Carrie Underwood details the vandalism of her soon-to-be-ex-boyfriend's truck. Jo Dee Messina leaves her bad apple with a lead foot down on the accelerator of her unspecified ride, maybe a truck, or possibly a late model Impala. Reba advises her ex to turn up her song on the radio until the speakers blow in his Chevy truck. That's just the girls, and there aren't many on the modern country charts. Vehicular references in male country songs are too numerous to mention.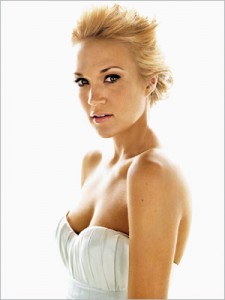 There's a lot of talk about what constitutes proper "country" behaviour. Billy Currington helpfully lays out a list in That's How Country Boys Roll: Drinks black coffee, loves wife, likes to fish, works all week, drinks beer on weekends, chews tobacco, drives fast on dirt roads, gives generously to those in need, loves mama, loves Jesus. Easton Corbin applies it to marriage: "This ring ain't something that I mean to give you and then take back, I'm a little more country than that," leaving it unsaid that such behaviour is more likely to come from non-country people.
Even if you don't substitute "Christian" for "country," there sure is a lot of God in modern country music. They're always talking to God, seeing God, praying to God, loving Jesus, looking forward to heaven. There is actually an atheist country song called "God Isn't Real" by Robbie Fulks – but the Rapture will come before CISN plays that one.
Country is music for the workin' man. Johnny Reid is proud his dad had a steady job – and we're not talking about pushing papers. After he saw his dad holding his new grandson, Reid came to the conclusion that "the best place for this world to be is in the hands of a working man," leaving it unsaid that hands belonging to those who don't happen to work so hard aren't quite as good, even if they spend more time with the kids.
At its worst, country is anti-intellectual, as professed in Dean Brody's Dirt Road Scholar. He tells some fancy college boy, "I'm from the dirt road poison ivy league of campfires, guitars and river swings." Christ, it's all so cliché. Listening to CISN is like being trapped in a musical version of Deliverance.
So the lonesome country fan can just flip the station, you say? You can't. THERE'S NOTHING ELSE ON.
OK, there's CFCW 790 AM – a 57-year-old freak of nature that transports the unwary listener to another place and time (rural Nebraska in 1965) – and it's the only music station in Alberta left on the monophonic AM radio dial. Along with some of the material touched on above, CFCW plays REAL country like Hank Williams and Loretta Lynn and Johnny Cash. These people knew hurtin' – and CFCW sure sounds painful on a decent truck stereo.
What about the non-commercial radio stations, the non-commercial radio people bleat? Yes, yes, of course: There are decent examples of real country music that's off the beaten path to be found on CJSR, CBC and CKUA that CISN would never play lest they offend their listeners – but it's only on for a couple hours at a time. There's no country station you can put 24/7 that doesn't make me want to gouge my eardrums out with a spur. If it's not the endless farm reports on CFCW, it's the high fidelity full stereo effect of Lady Antebellum on CISN. The South will rise again?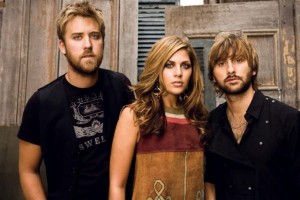 The Great "Hot-Alt" Country Schism seems to have happened right around the time Garth Brooks got big. As a reaction, perhaps, the punk scene embraced the alternative side of the country-folk-roots genre that didn't stand a chance in the new country mainstream. They anointed Willie Nelson as their pope, threw away their distortion pedals, learned three chords to strum and "alt-country" was born. You can tell the difference because the alt-country people wear their cowboy hats ironically.
There's more to it than that: The musical division lines up so neatly with American politics that you wonder if it's all a plot.
Draw a map. Red state = hot country. Blue state = alt country. Liberal, conservative, pro-choice, pro-life, Christian, non-Christian, blue collar, white collar, city boy, country girl – and never the twain shall meet.
Bad news if you're already confused: "Alt" is out, apparently, having been replaced with "Americana," which we can't call "Canadiana" up here because the word has already been taken by Mel Hurtig. Alberta's own Mike Plume is a good example of the form – and he, too, had to go to Nashville to make a name for himself. He really should've gone to Austin, the alt-Nashville and a far cry from Alberta either way.
Some guidance is clearly needed.
Former country record label rep Allison Brock now hosts an Americana show called Wide Cut Country every Saturday from 10 to noon on CKUA. Two precious hours. There you'll find material you'll never hear on CISN: Steve Earle (modern, leftie Steve Earle, that is), Jenny Whitley, John Hiatt, Ryan Adams and other blue-state Americana artists, plus the old-time country legends we know on a first name basis. Brock does not hide her disdain for the sort of country music heard on CISN, which she says she never listens to. Tit for tat! CISN's program director Chris Scheetz says he's never listened to Wide Cut Country, either.
Brock says, "To me, they work on the basis of lowest common denominator. It's like bubblegum, tastes good, doesn't last long. Ultimately the song is watered down before it even comes out."
She says a scary thing: Professional Nashville songwriters, some of which are Americana performers in their own right, are well aware what they're doing is being run over by several other writers, producers and label bosses before the artist even picks it. Consider the occasional hot country song that comes out complaining about hot country – like Alan Jackson's Murder on Music Row. And that's the other thing: Rock artists will express their deepest feelings by writing a song. Modern country artists do it by PICKING a song written by someone else. Brock says she has no problem with great song interpreters like Patsy Cline, to name but one who never wrote a line, but some naive young singer-songwriter with designs on Nashville success will find it impossible to sell his or her own songs without "cowriters." Nashville depends on its song factories like Alberta's economy depends on oil. The Brill Building era isn't over. It just moved to Music City, USA.
Trying to say something positive about the CISN country culture isn't easy. Both Scheetz and CFCW program director Jackie Rae Greening hold up the great Albertan Corb Lund as the rare guy who has one foot in both sides of the schism – thanks to a song called "The Truck Got Stuck" – and Brad Paisley as an example of real quality in mainstream country. But isn't Brad kind of a redneck Weird Al with guitar skills and who actually has a song called "I Want to Check You For Ticks?" I'm hearing sinister banjos in my head here.
Speaking of banjos, we ought to examine the musical production in modern country songs: It sucks. It all sounds like Huey Lewis and the News with a twang. Every arrangement is the same. Every chorus contains a clever twist of phrase. Every other male singer has that same growly cowboy bass scoop at the beginning of every line. Every predictable solo section is filled with a predictable solo from a predictable fiddle or whiny steel guitar – if there are even any at all. A lot of this stuff doesn't even sound like country, which must be why Taylor Swift can get airplay on both CISN and the Bounce 91.7. These two stations are kindred spirits in CRAP.
Right, sorry: Something positive. Every now and then, one of these hot country ditties can get to you. It happened to me, and I noticed it even more when I was embedded with the troops at the Big Valley Jamboree years back. Brainwashing works. Danny Hooper said it best. I've quoted this line numerous times, but it's still bears repeating: "Country music will get to you – if you let it."
I took that to mean that one must remove that part of your brain that recoils from sentimental overload. A lobotomy might help. George Canyon, who rolls with country boys, has actually made me misty twice. He did it once in My Name, about a miscarried baby's trip back to heaven, and again recently in Just Like You, in which the usual heartwarming dad-and-son tune is twisted around so the DAD wants to be just like his son. Oh, stop it, George. I've always had a soft spot for this guy, and not just because he looks like the Marlboro man.
Which reminds me, have you ever noticed there doesn't seem to be much homosexual content in modern country music? (What we need is a really good atheist, pro-gay country song – it would be a HUGE hit.) That's why it was so weird when the cowboy hat-wearing DJ at the Wild West Saloon played Lady Gaga – because apparently "a lot of young people these days are into both country and top-40."
Really?
While the Wild West may proclaim to be the most fun allowed by law, it was not on the Saturday night I was there. The doorman said this is the only place left in Edmonton that has live country bands. Not true, but it might as well be. The action here seemed about half-throttle. Some dancers. Some lonely men looking for lonely women. "Know any women here?" a drunk guy said to me. "No, sorry," I replied. Kind of sad. The band was OK. They rocked up Ring of Fire, did some Fleetwood Mac, had some fun with the crowd, took a break. Cue Lady Gaga.
I made another stop that night – a little-known bar in Edmonton that has live country bands six nights a week: The New West Hotel tavern. The place smelled like pee. A guy was dancing by himself. The bar was otherwise dead on a Saturday night – and yet the band was better and the people (20 or so, older crowd) more appreciative of the live music than at the Wild West. They actually clapped. The band did some jump jazz – surprise! – a faithful rendition of Six Days on the Road and ended big with Sweet Home Alabama. I drove all the way back across town listening to CFCW at 1 a.m. My turn indicator interferes with the radio signal.
How can Cook County Saloon win CCMA Country Club of the Year when they don't have live music anymore? They should immediately be disqualified. It's not owner Barry Sparrow's fault. He remembers when there were 14 different live country rooms in Edmonton back in the day (that day being 1992 or so). He says, "I think the buying public right now is just not into a steady diet of live country music … You have to cater to the people. Quite frankly, I miss it."
What happened here happened to the entire bar band scene – a deadly combo of drunk driving laws, AIDS and the ascent of the DJ as entertainer – but country has been especially hard hit. So while CISN radio, which basically does nothing to develop local talent beyond what it is legislated to do with FACTOR, is No. 1, the actual live country scene in Edmonton is dead last.
It's not Chris Scheetz's fault, either. He says basically the same thing Barry does, "We're trying to appeal to the masses, let's make that clear."
Maybe the masses need to smarten up. Maybe someone needs to be brave. And have deep pockets – we saw what happened to The Sound. Maybe the days of hot country are numbered, its creative force cut off at the source, obsolete, just another load of top-40 junk with cowboy hats. A lot of artists have already moved on. Brock says that the country gigs she plugs in Edmonton aren't at the Wild West, but at places like the Haven or the Blue Chair Cafe or the Black Dog – where you can hear real country unburdened by the status quo. Canadiana.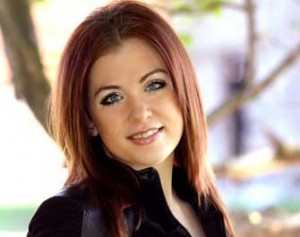 Samantha King, playing Friday at LB's Pub, was discovered in the CFCW talent search, which the station still runs (at least someone is doing something to develop new talent; the June 13 show at the Winspear Centre will feature 40 entrants). She has since turned her back on the Nashville path.
"I found it to be a bit narrow minded," she says. "I didn't want that sound, I wanted something more real, something with more soul to it."
What have we learned? Not much, I'm afraid. Things are fucked up and something has to crack before they get fixed. That's the way it always is. Let Tim McGraw have a word here: "I had my favourite stations, the ones that played them all, country, soul and rock 'n' roll, what happened to those times? I'm readin' Street Slang For Dummies, 'cause they put pop in my country. I want more for my money, the way it was back then."
At this point, the lonely man drives off a cliff.