Take a ride into the dark with Death Cab for Cutie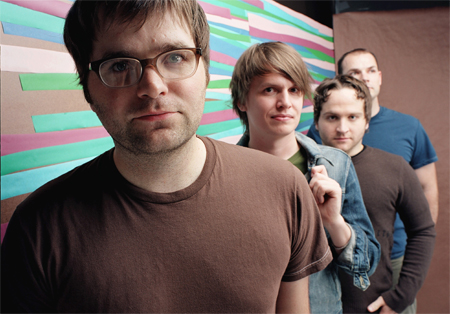 There are all kinds of rock stars.
Compare and contrast. Fresh from the joyous self-centred celebration of dumb, bombastic fun that was Kid Rock comes a rock 'n' roll celebration of a more introspective sort: Say hello to Death Cab for Cutie. Great subject for a WHO NAMED THE BAND? story, the name – taken from a song by the Bonzo Dog Doo-Dah Band – fits these guys like a kid glove.
On stage at the Shaw Conference Centre tonight, Death Cab features a singer whose intense sensitivity – or sensitive intensity, depending – has powered this indie phenomenon from Washington State into a really big deal. Last time through town (with Franz Ferdinand in 2006), singer Ben Gibbard brought the house down by merely sitting on a chair, strumming an acoustic guitar and singing a little number called I Will Follow You Into the Dark – a song so blitheringly romantic that people with heart trouble should consult a doctor before listening.
It starts like this, "Love of mine: some day you will die. But I'll be close behind. I'll follow you into the dark." This line comes later: "No blinding light or tunnels to gates of white, just our hands clasped so tight. Waiting for the hint of a spark if heaven and hell decide that they both are satisfied, lluminate the no's on their vacancy signs."
Deep.
There's plenty more where that came from – breezy yet melancholy, thoughtful songs that sound like conversations between two college co-eds in that point in their relationship somewhere between drugs, sex and love. Said interval sometimes isn't very long, just enough time for the average Death Cab for Cutie song, say.
In short, this music is a far cry, so to speak, from Bawitdaba. Both, of course, have their merits.
Death Cab for Cutie is touring behind its sixth album, Narrow Stairs. Read into that title what you like, and learn more tonight – a good gig to take a first date, by the way.
Tickets are $45 and on sale at Ticketmaster here, or at the door. The like-minded sensitive new-age rock band Bright Eyes will open.