Order of Chaos rises from the ashes with label deal
Posted on May 25, 2011 By Chad Huculak Music, The Latest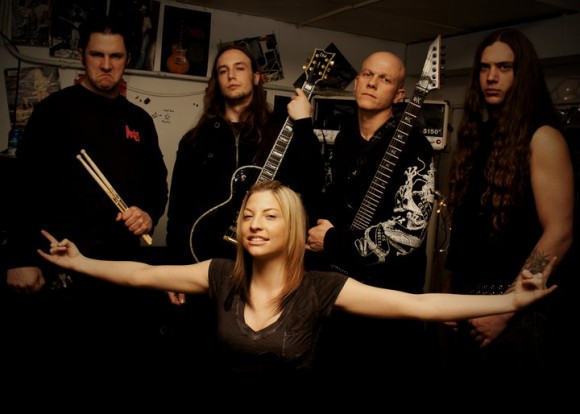 The Germans sure seem to appreciate Edmonton's metal scene.
After retro-metal powerhouse Striker signed to German label Iron Kodex for its 2010 album Eyes in the Night, local shredders The Order of Chaos have been picked up by Germany's Killer Metal imprint.
The Order of Chaos will unleash its sophomore effort Burn These Dreams with a hometown show at the Starlite Room Saturday.
The joint-CD release show will see fellow female-fronted metal act Unleash the Archers drop its new disc Demons of the Astrowaste, and will also feature openers Shadowblade.
The Order of Chaos guitarist John Simon Fallon says his band tried bigger, closer-to-home labels like Nuclear Blast and Century Media before signing a three-year, two-album deal with Killer Metal that includes worldwide distribution.
"(They) asked us what we wanted out of the label. I maintained that we wanted to keep all exclusive rights to our music. Really, we just wanted distribution, some help with promotion, touring Europe eventually. And to get our CDs paid for, and that we paid for all production," Fallon says.
"We came to an agreement that worked out for both of us. It's actually been pretty profitable for us."
The Order of Chaos is currently touring Western Canada in support of Burn These Dreams, which won't see an official overseas release until June 17.
The album's title harkens a darker time in the band's history.
In early 2009, the band studio and jam space – which also housed drummer Tim Prevost's family-run heating and air conditioning business – was burned to the ground in a vicious arson attack.
In the midst of recording its debut album, The Order of Chaos lost tens of thousands of dollars worth of equipment, along with all its merchandise and demos.
Some of the lyrics on Burn These Dreams reflect on the fire and the strength the band members found fighting through hardships caused by the incident.
"It's a bit focused on some of the emotions we had after that," Fallon says. "There's a lot of cross-parallels on the album in terms of subject matter. It's about when our studio burnt down, it's also about the negative emotions you have after an event like that."
There's also a tribute song to all those who lent them a hand after the fire, helping them get back on their feet with a hugely successful benefit show. Other lyrics delve into mental illness, exploitation of third-world countries and other, more universal issues.
Burn These Dreams will carry the band into the international metal market with a hard-hitting yet accessible sound that fuses rock with extreme metal, led by catchy riffing and Amanda Kiernan's standout vocals, which strike powerful melodies and harsh growls.
"The first album was a bit more one-dimensional, I did a lot of the writing. Whereas this album, the band came together, everyone had equal input," Fallon says. "It's more diverse, there's a lot of different sounds. Some songs are more rock'n'roll based, other songs are more heavy and thrashy."
The band's accomplishments thus far include opening for international acts like Sonata Arctica and Godsmack, and playing the Boonstock Music Festival, which they're set to play again when it returns June 29 to July 2.
The new record deal has already started to open doors for The Order of Chaos, a month before the album's international release.
Aside from mentions on websites around the globe, they've already been offered shows in Europe; though they plan to hold off until they can muster an extensive tour.
"Our CD has been featured on some websites in Argentina, Brazil, a few in Germany – just already in the short time since we've done this, it's opened a ton of doors," Fallon says.
He promises an hour-and-a-half set with a light show and "some other surprises" tonight.
Tickets are available here and at the door.
If you're curious about Unleash the Archers, check out their video for Dawn of Ages, below, which features a Sasquatch rocking out. You can't go wrong.