THEATRE: Love Song a rom-com for the lonely man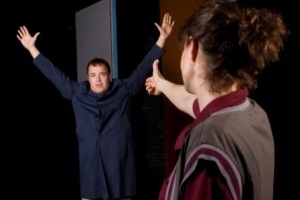 Perhaps you or someone you know was once in danger of becoming … chronically single.
You'd get set in your ways, get a cat, maybe surf for porn a bit too much for your own good and often have dinner at the houses of friends who now all seem to come in pairs. They'd occasionally try to set you up with a nice girl, or guy, depending, but nothing ever worked out beyond a few dates. Maybe you get another cat.
After playing Romeo and other powerful romantic leading men back in the day, actor Frank Zotter is up for another challenge as the nebbish main character in Love Song, opening tonight (Thursday, May 26) at the Varscona Theatre. "Beane" is kind of like the 40-Year-Old Virgin. He works in a toll booth, lives in a tiny apartment, has no friends, no opportunities for romance. The only people in his life are his sister Joan and her husband Harry.
Perhaps you may also know someone like Beane, who, despite the grim statistics regarding bachelorhood past a certain age, actually finds love – and of course you're dying to meet the new girl, or guy, depending. It's a very interesting moment, to be sure.
Zotter, who says he's been coupled up for the last 12 years and maybe hasn't glimpsed the abyss of ending up alone, nonetheless is drawing on the powerful rush of first love for his role. As playwright John Kolvenbach's story goes, Beane is puttering along in his lonely, invisible life when – suddenly, mysteriously – he meets a woman, Molly, and falls in love. His entire life turns around.
"It's exciting," Zotter says. "My nature is someone who does celebrate that kind of stuff. I really love being in love. I love love. I'm so not a cynic at all when it comes to stuff like this. And this guy, through love, has found the key to life. His senses become alive, his mind gets active, he starts getting philosophical and really caring, too, for his sister and the world. By virtue of having this woman enter his life, he has opened up a Pandora's box of all that is good."
Not only that, but it's contagious. Joan and Harry's relationship, which had been getting stale, gets a boost.
Yes, Love Song is definitely the kind of story that would appeal to someone who loves love. The cast is rounded out by Coralie Cairns (Joan), Vanessa Holmes (Molly) and John Sproule (Harry).
Zotter says he could definitely see the play made into a Hollywood romantic comedy.
He adds, "Please don't put Jennifer Aniston in it. Please."
Love Song plays through June 12 at the Varscona Theatre. Tickets are on sale here, or call 780.420.1757.