Aboriginal Slave Lake benefit to raise spirits at Legislature bandshell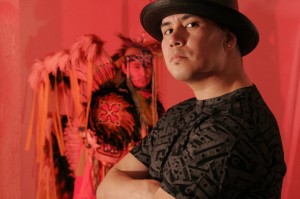 When Ron Walker isn't pow-wow dancing, he's a youth worker who specializes in easing aboriginal kids through the culture shock of moving from small towns to the big city.
More than 10,000 Slave Lake residents were put in that situation rather suddenly last week when a terrible forest fire destroyed a third of the town. Many evacuees are still staying in Edmonton. Some don't have anything but what they packed when they left, some are still wondering if their houses back home are still standing. Walker is from Slave Lake – "I'm probably related to a quarter of the people there," he says – and so he was moved to put together a special Slave Lake benefit concert, happening Saturday afternoon (May 28) at the Alberta Legislature bandshell. It just happens to be an all-aboriginal bill, including rapper Conway K of Red Power (above), though that wasn't the plan. It just came together like that.
The goal of the event is to raise not only money, but the spirits of the people affected by the disaster, Walker says. A flute player and recording artist who now lives in Edmonton, he also has some experience with concert promotion, but nothing this big. He says he started to get discouraged with some of the difficult wrangling necessary to put on a live event – especially in getting a headliner – so he talked to a bird. This isn't some joke, either.
"It's kind of weird," he admits. "I put out a prayer, I said we need someone who knows a lot of big people. So at that moment, this little bird came and sat on my windowsill looking at me, so I said, what can you do? Then it flew away. I went to a meeting and when I got back my spouse said Bill Miller called."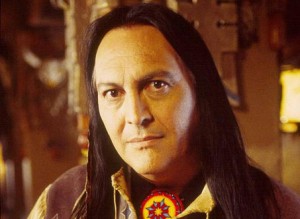 Bill Miller (left) is a triple Grammy-winning aboriginal folk singer from Nashville who goes by the name Birdsong, who heard of the disaster and agreed to waive his usual performance fee. Airfare is another matter. Walker has already spent $1,300 of his own money for Miller's ticket. The River Cree Casino and Marriott Hotel will put the star up while he's here. Prairie Dog Films has signed up as a sponsor. The local aboriginal radio station CFWE 98.5 FM is on board. More sponsors might be nice. Westjet, perhaps? Walker isn't a company. He's just one guy on a mission. He has personal stake in the matter.
Walker's mother, sister and his sister's kids – who have been staying with him at his home in Edmonton – recently found out that their houses escaped the fire. Uncle Gordon wasn't so lucky, nor were several cousins and other relations. Walker says doesn't even know if his own brother's place escaped the fire. There's a lot of worry and frustration in this extended family, and the entire close-knit community of Slave Lake.
Walker says an event like this, called "All My Relations," is meant to soothe some seriously frayed nerves.
He says, "It's all about faith. You can't just have facts on a paper. We need unity, we need the spirit within the people to stand up. That's the important thing about this."
Admission to the show is free. Starting at 5 p.m. Saturday, May 28, the performers before Miller include the Dene Tha' Drummers, the Metis Cultural dancers, Darla Daniels, Stephanie Harpe Band, Corbin Poitras and pow-wow dancers probably featuring Walker himself. People are invited to bring their own picnic supplies. Donations for the Canadian Red Cross will be accepted on site.