Fresh from American Idol, Judas Priest to rock the Shaw Nov. 1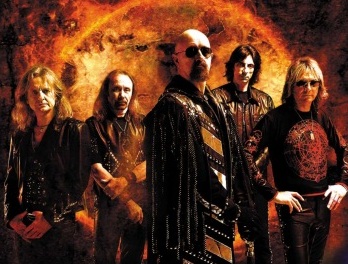 The few, the proud, the Marines, the metal bands known by one name only – these are the true heroes of our time.
At least when it comes to their fans, the ones for Judas Priest particularly compelled to shout "PRIEST!" accompanied by the universal devil horn salute. Once again, in case there's still any misunderstanding, such behaviour doesn't glorify the devil. It actually mocks the devil, robs the Dark Lord of His power – and gives it to Judas Priest and their fans. Everybody's happy. Except maybe the devil.
Fans may now rejoice at the return of Judas Priest, playing Tuesday, Nov. 1 at the Shaw Conference Centre with Black Label Society, featuring the always entertaining Zakk Wylde, and Thin Lizzy, and boy does that take us back. With the chrome-domed reverend of doom Rob Halford back out front, Priest's latest stunt was appearing at the American Idol finale on May 25 – now THAT's evil! Satan, get thee back!
Tickets to the all-ages show are $70 and go on sale Friday, June 3 at Ticketmaster.
Also in the queue is Blink-182, announcing on-sale dates probably Monday if not sooner for a tour that takes the band to Rexall Place on Aug. 27, with Rancid and Against Me in support. Drummer Travis Barker was just here, of course, banging away with Mix Master Mike opening for the Lil' Wayne show. We saved a table at the Oil City Roadhouse for you, Travis.