REVIEW: Warhol well-manufactured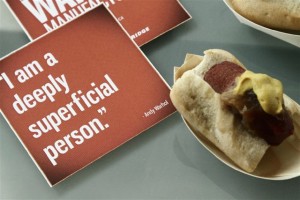 Is it ironic or simply fitting the most moving piece of art in the new Warhol show is a wig?
It's no ordinary hairpiece of course – it's a wig worn by Warhol (and David Bowie, for that matter), another prop in the artist's long line of mundane grocery items and human billboards made ridiculously famous by his curation and adjustments. The most recognized banana in the western world, after all, underwent the pop artist's treatment, to this day having dusty rock critics proclaim no better album cover was ever printed.
ANDY WARHOL: Manufactured (see more images here, photos by Fish Griwkowsky) is more than a checklist show for the Art Gallery of Alberta (AGA). It's just immersive enough to be called great – especially if you sit and watch Warhol's gorgeous films, including an edit of "Sleep," originally five hours and 20 minutes scanning the slumbering, hairy body of his poet friend John Giomo. Just as intimate, the opening block of the show is a visual exploration of Warhol's beginnings, including tellingly incomplete family photos and a hilarious, lizard-tongued caricature of one of his teachers.
And it's this intimacy that's what makes the familiar show meaningful, particularly given the intentionally mass-produced nature of the artist's most famous work, here represented with numerous Campbell's soup icons, that gorgeous and accidentally timely Liz Taylor and the giant pink repetition of The Last Supper, most impressively seen with gallery people standing in front of it, their shapes and the apostles' riffing off each other. (Again, accidentally.)
Given how most of us have seen the bulk of our Warhol experience on the printed page, there's a kind of indescribable freedom to see his actual paintmarks, or the places where his pink camouflage doesn't quite line up. Not that anyone who's paid attention isn't aware of the man's imperfections, but to move around the work almost immediately invites a viewer to take up strange points-of-view. Maybe it's just me, but I found the show cleverly interactive in this sense, liberating to photograph from weird angles.
The work is politely described, filled in with self-effacing notes by Warhol, who intentionally or not found the love he sought by exposing his weaknesses often when talking and almost always when he wrote. One of the most nervous artists of the fledgling document-everything age, Warhol's self-obsession isn't really shocking any more. You get the feeling, at least before he was shot, he'd probably have loved Facebook, especially pretending to be other people, and certainly its numerical point system based on the number of friends.
Getting back to the show, it's a nice survey of his background, process and a few noteworthy works. As AGA executive director Gilles Hebert noted today, "It's incredible that one guy who died 26 years ago can still have this kind of resonance. He changed the vocabulary of how we look at everything in popular culture. To him, everybody was a celebrity that wanted to be a celebrity."
Including his mother. Including soup. And including Wayne Gretzky. The gallery's Warhol Gretzkys are staying in the vault, incidentally. As AGA chief curator Catherine Crowston patiently explained to me: "We have some, which are screen prints on paper. Part of the challenge with those as they are paper works and we've exhibited them fairly often, we chose to not put them in the show. We're letting them remain out of the light for a little bit of time.
"But," she laughs, "they are in the building."
The show opens to the general public tomorrow night, Saturday May 28. Visitors are asked to bring cans of soup to donate to the hungry. June 4th's Refinery Factory party has already sold out, but on Wed. June 8 at 7 p.m. Thomas Sokolowski will be presenting a talk, Andy Warhol: Camouflage Man. I'd also suggesting finding Lou Reed and John Cale's brilliant biographical album, Songs for Drella if you want to get to know Warhol even better. Because the artist's imprint on Edmonton is not going away any time soon.